WELCOME TO THE WORLD OF
RICK RUTHERFORD'S COUNTRY
Rick Rutherford's Country – The Australian Country Collections Shoppe
is located in 'Badger House', 3 Badgery Crescent, Lawson
in the heart of the beautiful NSW Blue Mountains.
(From Sydney, turn right at the San Jose Avenue bridge lights, just BEFORE the Lawson township. Look out for the directional sign on the left, just before the skate park)
Open daily 10am to 5pm from Jan 2nd to Feb 4th 2018
TEAROOM AND CAFE NOW CLOSED
(02) 4759 3434
***********************
For those wondering what happened concerning our 2017 Christmas VIP Spode Giveaway, many apologies for not advising all sooner. The winner was our beautiful customer Mary McGowan – a lady of great grace and style and an overwhelmed recipient if there ever was one!
We did a preliminary draw of 20, then reduced to 4, and then ultimately Mary's name was pulled from the hat!
The delay in publishing the name and pics of the winner is a consequence of a major accident on December 30th.
All geared up, sorted and ready for the opening day of our 5 week closing clearance sale, in a truly exhausted state after packing away the first load of stock, yours truly fell off an attic ladder and landed in hospital. 6hours of surgery, 20 screws, 2 steel plates and a thigh-to-toes plaster cast later, a smashed left leg means that I will not be able to farewell beloved customers and friends over the next few weeks as we approach Feb 4th and our last day before final building restoration and putting 'Badger House' on the market – vacant possession.
So I take this opportunity to thank all those who have been such wonderfully loyal supporters of the RRC brand and concept over the past decade or more. This is not goodbye but 'ciao for now' as I rest and recover, write my next book 'A Christmas Memory – Wroxton Revisited', plan my exciting event store for the end of 2018 and finally find a time of peace and reconnection which I have craved for nearly 25 years.
I pray God blesses you all abundantly till next we meet – and again thank you for your love, care, support and the laughs across the years.
With love
Rick
PS: Re our MEGA CLOSING CLEARANCE SALE … Don't forget there are incredible bargains to be had instore daily, all the way through to our Feb 4th closing, including all fixtures and fittings. Discounts will increase weekly. Monica and Sandra are on hand to help you select the bargain of the century, so PLEASE come on up and secure your own special RRC 'Badger House' memory
***********************
Endings & Beginnings
The late science fiction author Frank Herbert is recorded as believing that "there is no real ending. It's just the place where you stop the story." And as such, the story can easily be picked up again at any time, to continue along the same narrative, or to take a completely new direction altogether.
Such a perspective and the belief in the various stages of life's beginnings and endings is one shared by Rick Rutherford. One of the Blue Mountains' most successful retailers, Rick created the 'destination-focused' heritage country store concept known as Rick Rutherford's Country in the middle mountains in 2007 in company with business partner Jan Parlett. The hugely-successful venture came about as a result of a Christmas 'pop-up' shop the pair presented in Springwood in November and December 2006, as well as being the 'translation into reality' of Australian Country Collections magazine – the nation's best-selling bimonthly country interiors magazine which Rick authored and guided for over 10 years.
"After ten years doing Australian Country Collections, and then being head-hunted to an associated publisher to establish my own title – Rick Rutherford's Country – which I headed up for another two years, I was pretty burnt out by the publishing world and hankered for a change. So Jan and I thought we would test the waters and opened a speciality Christmas and country decorator store for two months in Springwood at the end of 2006. Buoyed by its amazing success, we knew we were on a winner" Rick explains.
And so the mission to find a permanent location commenced, the search extending everywhere from Mulgoa to Mudgee, Orange to Oberon. But just as fate would have it, the perfect location was sitting, waiting … just over the railway line in the original commercial heart of the Blue Mountains in Lawson, next to the very first general store established here in 1880.
"Our aim was to find a permanent home, and translate the themes of the magazines I was so well known for into reality. We opened in late 2007 and, for over ten years, have been a drawcard destination for everyone – from near and far – who is interested in country home interiors, Christmas decorating, and who seeks refuge – and repast – within our gorgeous Nessie's Daffodil Tearoom" Rick adds.
"It has been an amazing ride. But with the pressure of working every weekend for the best part of two decades, and the fact that a proper break away has eluded both of us for the same period, it's now a time to take stock and make amends for time lost with family and friends over the years. And it's also time to look ahead and plan new ventures and explore new horizons … including the writing of my next Christmas book due out in late 2018!"
And so the decision has been made, culminating in the sale of the Rick Rutherford's Country 'Badger House' building in early 2018. As Rick explains, the process will take in a mega progressive clearance of stock commencing on January 2nd  2018. "We're closing from Christmas Day to New Years Day, working behind the scenes to stow away all the stock we're going to keep for our next mega adventures (not one but two!) next year, and the rest – including lots of furnishings and fittings – will be sold at hugely discounted prices across a five week period, culminating in the final closure of the store on Sunday February 4th  2018."
Rick adds … "The past decade and a half has been an amazing ride and wonderful customers have become cherished friends. But all good things must come to an end, facilitating new beginnings in turn. We look forward to seeing everyone for one last hurrah throughout January, and extend our love and thanks to all who have shared with us this part of life's journey … until the next stage is revealed a little later in 2018".
Rick Rutherford's Country is located at 3 Badgery Crescent, Lawson (in the heritage precinct just over the railway line). From Leura turn LEFT at the San Jose Avenue lights on the Great Western Highway, just after the Lawson station. From Sydney turn RIGHT at the San Jose bridge lights just after the RRC sign on the left, before the Lawson township. The gallery is open seven days a week, 10am to 5pm. Ph: 4759 3434.
**********************  
***********************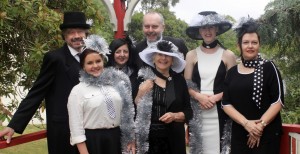 ************************


************************
A WORLD OF COUNTRY
From the romantic look of the Victorian era to the colourful themes of the Retro era; from the muted tones and warm woods of traditional English country style to the folksy theme of American-inspired country decorating; from the relaxed, fresh feel of the coastal look to the pretty style of old-fashioned cottage decorating … you don't have to travel the world to discover such a broad gamut of country styles because they're all housed within the one very special location within the NSW Blue Mountains.
Situated at Lawson, within the heart of the mountains, Rick Rutherford's Country – The Australian Country Collections Shoppe boasts ten rooms of wonderful country interpretations … including a bear and toy-filled children's room and year-round Christmas room.
The entire gallery overflows with the most gorgeous treasures to create just about any country look from around the world … from specially-imported quilts and china to stitcheries and wreathes. There's lots of handmade wares, lamps and framed images, things vintage and retro, others pretty and chic. And on a more personal note there's a gorgeous collection of jewellery, candles, scarves and the guarantee of something for everyone on any gift-giving list … no matter the recipient or the occasion!
Whatever the day of the week, whatever the week of the month, there's always the guarantee that the vast selection and variety that is synonymous with the Rick Rutherford's Country names continues to amaze. Regular inspections are thus essential, especially given the fact that the beautiful Lawson gallery also incorporates Nessie's Daffodil Tearoom. Featuring a menu of gorgeous old-fashioned sweet treats, Devonshire teas and superb special-blend coffee, it's the ideal place to come and unwind in the sundrenched Cottage and Retro Rooms, surrounded by beautiful blue and white china, wonderful enamel and retro wares, sumptuous scents and gorgeous music. What more could the ultimate Blue Mountains gallery experience offer?
It all adds up to explain why Rick Rutherford's Country at Lawson is regarded as being so much more than a principal Blue Mountains destination … it's an unforgettable experience!
**********
More Reason Than Ever … a $150 Shopping Spree!
Due to the activity of running two stores, our Home Tours section has been a little neglected of late. We have just not had enough time to hit the road and scour the countryside for new profiles to showcase here. So we've decided to ask you all to come to us!
If you have a country home – be it grand or humble – that you just love and would like to share it with others, we'd love to hear from you. If you are chosen to be featured within the online magazine here, we'll reward you with a $150 gift voucher to spend within the stores. Even if you live far afield, you can always have a shopping venture at Rick Rutherford's Country via the online store or the new 'Gallery Showcase' which we are about to launch in the next week.
To get the ball rolling, simply drop us a line at rickrutherford@iprimus.com.au and we'll tell you how to become our new showcase country home!
**********
Biography – Rick Rutherford
'Who is this man' I have often heard asked? What is his claim to fame? I aspire to no notoriety – I just have a passion for what I do and where I live, and am abundantly blessed to be able to combine the two, touching the lives of others in the process as I champion the cause of putting one's heart into one's home … to celebrate its true meaning and value.
When I set out to undertake formal studies in the area of journalism and communications many moons ago, I knew I wanted to ultimately 'write country', but exactly how, when and where were certainly unclear in those formative years. Once I gained my degree I launched into a career in public relations, took a side track for a few years in the rag trade where I had my own clothing label, and then came back to journalism where I wrote, amongst other things, a regional title called Farmers & Graziers.
A love of the rural way was thus instilled. But not so much a hankering to don an Akubra and graze 1000 head of cattle, but more a passion to pursue a career investigating and writing about the look that is so firmly rooted in the countryside; is inspired by the colours and materials of Nature; and is continually evolving, exciting  and vibrant.
Such a passion ultimately led me to conceive and launch onto the Australian market the hugely-successful Australian Country Collections, a magazine which held my attention, and my heart, for over 10 years and 39 issues! But if it's true that with 40 comes a mid-life crisis and a hankering for change and new directions, then a mid-life magazine crisis was certainly had as I ultimately decided to face the new (and I'll admit initially daunting) challenge of translating passion, skills and experiences to a fresh and exciting medium – the web. And so www.rickrutherford.com came into being.
Then in early 2005 my very own national title Rick Rutherford's Country was launched. The bimonthly magazine quickly earned the same strong and dedicated following I experienced when running Australian Country Collections. To this band of wonderful readers across the nation and even in far-flung reaches overseas, I will always be indebted.
But life continues to change and is ever offering many new challenges. One such challenge has been the translation of Rick Rutherford's Country from printed title to Australia's first online country magazine. It has been an exciting new frontier to forge, and a new phase in life, as I have had the unique opportunity to reach a much broader audience across the globe.
The ultimate challenge however came about in late 2007 when I embraced the opportunity to finally translate 'words into reality' and establish Rick Rutherford's Country – The Australian Country Collections Shoppe within a wonderful heritage building in Lawson, in the very heart of the NSW Blue Mountains. Then, at Easter 2009, a second store was launched – in the Blue Mountains famed heritage village of Leura. The two stores and the online magazine here have now become the main focus of my business activities,
My regular column – called 'Along The Way' – which appeared in Australian Country Craft and Decorating for several years has now been transferred to the website here (there are several editions archived here online for all to read) and another book and several other projects are also presently 'on the boil' for future development.
Indeed life is full, rich and rewarding, the greatest blessing being the kindred hearts with whom I continue to connect via the various professional interests with which I am involved.
**********
CALL FOR FEEDBACK
With the extensive updating of the online magazine here, I am eager for all your feedback and input. Do you have something to say? A house you would like to see featured in the House Tours section? Some poetry or prose to contribute? Maybe even a business or interest you would like to plug. Whatever it is you would like to share, please contact me via rickrutherford@iprimus.com.au and I'll be delighted to respond.
Rick
Come Join The Party
There's a party going on … somewhere! To be precise, it's being staged at the Blue Mountain's beautiful heritage country gallery Rick Rutherford's Country, and the guests are being feasted to more than just a glass of vino or two!
During the course of midyear Yulefest celebrations, this year Rick Rutherford's Country saw huge numbers of new customers flood through the door who were drawn by the breathtaking displays and wonderful atmosphere of this unique mountain's attraction. And many of them asked if they can 'stay and party', so the gallery has responded with an invitation to all to come and do just that!
Due to so many requests from customers interested in visiting the store after hours – in the company of a group of their own friends so that they can all enjoy the hugest selection of wares the country store has to offer – an exclusive party plan concept has been launched.
It's so simple. A customer organises a group of 20 or more of their friends and relations who want a great night out and they then book the date. We supply wine for the gathering and the hostess supplies the nibbles. All guests receive 10% off everything in the store in $50, plus the hostess is entitled to an extra gift of a $100 shopping voucher to be spent either on the night or at any other time within a year!
It's a wonderful opportunity to explore the gallery and shop in the company of your closest friends and like-minded country fans, as well as having the chance to view and purchase – ahead of other customers – many of the new lines that come into stock. And, on top of it all, it's the promise of a great social activity. If you would like to 'come join in the party' all you need to do is gather up 20 friends and call us … we'll organise the rest.
**********