WELCOME TO THE WORLD OF
RICK RUTHERFORD'S COUNTRY

Endings & Beginnings
The late science fiction author Frank Herbert is recorded as believing that "there is no real ending. It's just the place where you stop the story." And as such, the story can easily be picked up again at any time, to continue along the same narrative, or to take a completely new direction altogether.
Such a perspective and the belief in the various stages of life's beginnings and endings is one shared by Rick Rutherford. One of the Blue Mountains' most successful retailers, Rick created the 'destination-focused' heritage country store concept known as Rick Rutherford's Country in the middle mountains in 2007 in company with business partner Jan Parlett. The hugely-successful venture came about as a result of a Christmas 'pop-up' shop the pair presented in Springwood in November and December 2006, as well as being the 'translation into reality' of Australian Country Collections magazine – the nation's best-selling bimonthly country interiors magazine which Rick authored and guided for over 10 years.
"After ten years doing Australian Country Collections, and then being head-hunted to an associated publisher to establish my own title – Rick Rutherford's Country – which I headed up for another two years, I was pretty burnt out by the publishing world and hankered for a change. So Jan and I thought we would test the waters and opened a speciality Christmas and country decorator store for two months in Springwood at the end of 2006. Buoyed by its amazing success, we knew we were on a winner" Rick explains.
And so the mission to find a permanent location commenced, the search extending everywhere from Mulgoa to Mudgee, Orange to Oberon. But just as fate would have it, the perfect location was sitting, waiting … just over the railway line in the original commercial heart of the Blue Mountains in Lawson, next to the very first general store established here in 1880.
"Our aim was to find a permanent home, and translate the themes of the magazines I was so well known for into reality. We opened in late 2007 and, for over ten years, were a drawcard destination for everyone – from near and far – who is interested in country home interiors, Christmas decorating, and who sought refuge – and repast – within our gorgeous Nessie's Daffodil Tearoom" states Rick.
"It was an amazing ride. But with the pressure of working every weekend for the best part of two decades, and the fact that a proper break away had eluded both of us for the same period, by late 2017 it was time to take stock and make amends for time lost with family and friends over the years. It was also time to look ahead and plan new ventures and explore new horizons … including the writing of my next Christmas book due out in late 2018!"
Rick adds … "The past decade and a half has been an amazing ride and wonderful customers have become cherished friends. But all good things must come to an end, facilitating new beginnings in turn. With the decision made to head in a new direction at the end of 2017, that decision was 'set in concrete' on December 30th when I sustained a major fall and shattered my left leg. Steel plates, screws and much physio has got me to a stage where I'm learning to walk again, but it's a slow and arduous process. Only through the love and support of family and friends can I now see light at the end of the tunnel … with still quite a distance to go."
So for all those who are interested in the world of Rick Rutherford's Country, please know that Rick appreciates so deeply all your loving messages of support and encouragement since the beginning of 2018 and promises that he will come back better than ever. "Changed … but better" he assures. In the meantime he encourages all to enjoy the home tours,stories and other aspects of the website here, and to check back regularly for updates and news of the latest happenings in the world of RRC. 
And in the meantime, there is the wonderful world of Jan Parlett's Country Experience in Main Street, Grenfell NSW (check her out on Facebook) to keep all supporters and country aficionados more than fully sated with the very best in decorating trends, beautiful homewares, Christmas treasures (especially during the month of July this year), gorgeous jewellery and so much more. She's the shining light of the west and always worth the drive to enjoy this unique country experience and destination. 
***********************
It's on its way … presently in production and writing. Photography is happening (as above), words are coming together, designs are being visualised. 'A Christmas Memory … Wroxton Revisited' will be on sale by early September this year – available by direct purchase here and via www.rickrutherford.com as well as from J. Parlett's Country Experience in Grenfell, NSW.
Meanwhile the remaining 50 copies of Rick's first book – 'Rick Rutherford's Country Christmas at Wroxton' (left) – are currently being cleared at the amazing price of $25 which includes postage to anywhere in Australia.
To grab your copy of this hugely-collectable first edition, drop us an email to rickrutherford@iprimus.com.au, message via Facebook or phone us on
0419 977 758 (card or direct deposit)
**********************
  Images of Rick's former heritage gallery in 'Badger House', Lawson  NSW at Christmastime 2018 below
***********************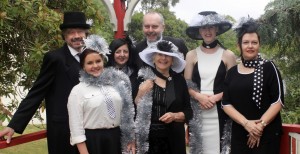 ************************


************************
Biography – Rick Rutherford
'Who is this man' I have often heard asked? What is his claim to fame? I aspire to no notoriety – I just have a passion for what I do and where I live, and am abundantly blessed to be able to combine the two, touching the lives of others in the process as I champion the cause of putting one's heart into one's home … to celebrate its true meaning and value.
When I set out to undertake formal studies in the area of journalism and communications many moons ago, I knew I wanted to ultimately 'write country', but exactly how, when and where were certainly unclear in those formative years. Once I gained my degree I launched into a career in public relations, took a side track for a few years in the rag trade where I had my own clothing label, and then came back to journalism where I wrote, amongst other things, a regional title called Farmers & Graziers.
A love of the rural way was thus instilled. But not so much a hankering to don an Akubra and graze 1000 head of cattle, but more a passion to pursue a career investigating and writing about the look that is so firmly rooted in the countryside; is inspired by the colours and materials of Nature; and is continually evolving, exciting  and vibrant.
Such a passion ultimately led me to conceive and launch onto the Australian market the hugely-successful Australian Country Collections, a magazine which held my attention, and my heart, for over 10 years and 39 issues! But if it's true that with 40 comes a mid-life crisis and a hankering for change and new directions, then a mid-life magazine crisis was certainly had as I ultimately decided to face the new (and I'll admit initially daunting) challenge of translating passion, skills and experiences to a fresh and exciting medium – the web. And so www.rickrutherford.com came into being.
Then in early 2005 my very own national title Rick Rutherford's Country was launched. The bimonthly magazine quickly earned the same strong and dedicated following I experienced when running Australian Country Collections. To this band of wonderful readers across the nation and even in far-flung reaches overseas, I will always be indebted.
But life continues to change and is ever offering many new challenges. One such challenge has been the translation of Rick Rutherford's Country from printed title to Australia's first online country magazine. It has been an exciting new frontier to forge, and a new phase in life, as I have had the unique opportunity to reach a much broader audience across the globe.
The ultimate challenge however came about in late 2007 when I embraced the opportunity to finally translate 'words into reality' and establish Rick Rutherford's Country – The Australian Country Collections Shoppe within a wonderful heritage building in Lawson, in the very heart of the NSW Blue Mountains. Then, at Easter 2009, a second store was launched – in the Blue Mountains famed heritage village of Leura. The two stores and the online magazine here have now become the main focus of my business activities,
My regular column – called 'Along The Way' – which appeared in Australian Country Craft and Decorating for several years has now been transferred to the website here (there are several editions archived here online for all to read) and another book and several other projects are also presently 'on the boil' for future development.
Indeed life is full, rich and rewarding, the greatest blessing being the kindred hearts with whom I continue to connect via the various professional interests with which I am involved.
**********
CALL FOR FEEDBACK
With the extensive updating of the online magazine here, I am eager for all your feedback and input. Do you have something to say? A house you would like to see featured in the House Tours section? Some poetry or prose to contribute? Maybe even a business or interest you would like to plug. Whatever it is you would like to share, please contact me via rickrutherford@iprimus.com.au and I'll be delighted to respond.
Rick
Come Join The Party
There's a party going on … somewhere! To be precise, it's being staged at the Blue Mountain's beautiful heritage country gallery Rick Rutherford's Country, and the guests are being feasted to more than just a glass of vino or two!
During the course of midyear Yulefest celebrations, this year Rick Rutherford's Country saw huge numbers of new customers flood through the door who were drawn by the breathtaking displays and wonderful atmosphere of this unique mountain's attraction. And many of them asked if they can 'stay and party', so the gallery has responded with an invitation to all to come and do just that!
Due to so many requests from customers interested in visiting the store after hours – in the company of a group of their own friends so that they can all enjoy the hugest selection of wares the country store has to offer – an exclusive party plan concept has been launched.
It's so simple. A customer organises a group of 20 or more of their friends and relations who want a great night out and they then book the date. We supply wine for the gathering and the hostess supplies the nibbles. All guests receive 10% off everything in the store in $50, plus the hostess is entitled to an extra gift of a $100 shopping voucher to be spent either on the night or at any other time within a year!
It's a wonderful opportunity to explore the gallery and shop in the company of your closest friends and like-minded country fans, as well as having the chance to view and purchase – ahead of other customers – many of the new lines that come into stock. And, on top of it all, it's the promise of a great social activity. If you would like to 'come join in the party' all you need to do is gather up 20 friends and call us … we'll organise the rest.
**********