After what has been an arduous year for all of us, the delight of getting out the Christmas decorations and decking the halls to the nines has been readily anticipated by so many … as almost a declaration of 'the end' to a year of pandemic horror and the beginning of a season of hope and renewal. And after all, what else could embody hope and renewal more perfectly than the birth of the saviour?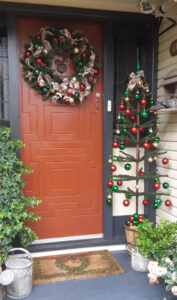 I know for a fact that lots of folks have really been looking forward to the 2021 Christmas season because they have been telling me they've been getting out my latest Christmas book 'A Christmas Memory' and looking for inspiration, or they have been making contact to buy their very own copy (just click on the Christmas Book tab on the website here and secure yours … there are not many left for sale and they're just $40 which includes postage to anywhere in Australia).
So many have also been asking me what I have planned for Wroxton for the 2021 season … what's new, what's different, what have I added and what have I done away with?
And so … a picture tells a thousand words and answers all the questions!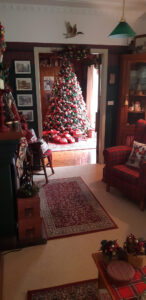 This season sees what I think (and maybe hope) to be the ultimate streamlining and sorting of different displays in each room of Wroxton and is the culmination of nearly 10 months of planning and sourcing elements and special pieces from all over the globe!
It all started in late January when the decision was made to scour the world for vintage-style glass tree top finials, the kind that were so very popular in the 1940s and 50s though their beginnings hark back to Germany where exquisite hand-blown glass finials were first made at the end of the 19th century. These 'crowning' ornaments are often described as the exclamation point that finishes the tree and are as fragile as they are beautiful.
And so I started running through the retinue of trees planned for this year – both new designs and old favourites and began searching … in Europe, England, USA and Australia. An indent version with gilding, a diorama with inset reindeer, a plain red one, a deep forest green, a moody blue, several with silvered mercury glass trim, some newly-made and several from vintage sellers that are at least 70 – 80 years old … all were found and put away until November decorating when it was ultimately discovered that I had bought more than I had trees. Whoops! The tyranny of purchasing according to a plan in your head.
Having decided last year to do my first 'traditional' English-inspired red and green main tree as a tribute to a dear friend who was flying from England and was to be hosted to a Wroxton Christmas (sadly, due to the pandemic she was unable to travel but I still did the traditional tree in her honour) I loved it so much I resolved to make it a permanent thing and set about looking for beautiful traditional glass ornaments to better fill out its branches. First I discovered a local trader who had purchased a large shipment of exquisite glass ornaments from Europe years ago, initially planning to sell them in Australia and then didn't proceed for commercial reasons. So he stowing them away in the loft of his family factory for years. I bought these and then later a range of gorgeous tartan-adorned ones and set them aside ready to decorate … only to discover yet again that I had purchased too many and was therefore able to gift the 'overs' to several very special friends.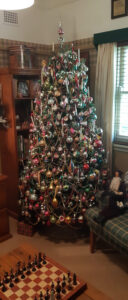 But having decided to 'stay traditional' with the main Wroxton tree, what was I going to do with the huge cache of vintage and antique glass tree ornaments that I have been seriously collecting for well over 20 years and had formerly been the star attraction on the main tree? Mercury baubles, 1940s dioramas, 1950s and 60s indents, mercury glass garlands from the 1930s onwards, even a tiny number of handmade glass tree decorations from the 1920s … all these needed their own place to shine. And so a beautiful thick artificial 7ft fir tree was bought as a special showcase and set up in the den. This will now be a permanent feature of Wroxton Christmas displays, just like the traditional English-inspired main tree.
Other regular tree displays again this year include an elegant specimen tree covered in gold glass baubles in the guest bedroom; and an equivalent adorned with red, silver and blue glass ornaments in the main bedroom.
A kitchen tree decorated with cookie cutters and reproduction chocolate mould ornaments, another with delicate timber woodland animal ornaments from northern Europe and two important collections – one of Christmas teapots and another of vintage Santa mugs – combine to add festive cheer to the cookroom.
The red, silver and blue theme carries on into the adjoining studio where a handmade silver tinsel tabletop tree from the USA provides a fun Americana nod (well, I was born on the 4th of July). The ultimate Christmas glory of the room however is a stunning pre-lit 7ft tree with wicker base that is dressed from head to toe in blue and silver glass baubles, silvered twining ribbon that has been twisted into a crowning bow, and a collection of several dozen one-off blue and white ceramic ornaments in the shape of angels and snowmen, St Nicks and doves, birds and presents.
In a painted red bucket specially done this year for the display, a tabletop tree in the office is adorned with a selection of smaller vintage glass baubles – mainly from the 1950s and 60s – and a superb glass nativity collection, topped with a wonderful intricate glass angel bought from a glass blower in Poland.
In a matching unpainted tin bucket on the verandah, another table top tree displays a collection of more rustic ornaments – hand-strung wooden beads, wooden angels, garden-inspired decorations and clip-on red cardinals. Nearby is a 5ft handmade metal display tree which I discovered on a Marketplace site in the middle of the year and had to have it to showcase of a collection of wood and canvas St Nick ornaments that I have had for more than 20 years and have never been able to previously show them off to full advantage.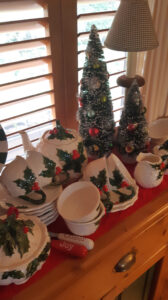 Looking at the overall finished displays, I think that I have finally 'hit my groove' as I'm finally happy and satisfied with the way that it has all come together. It has only taken a decade or two, with wonderful memories embodied by each tree and roomscape created along the way!
And why do I do it each year? The answer is easy. The reason lies in an inner hankering to reclaim the joy and magic of Christmas in adulthood and banish the horrors of childhood days when Christmas was far from a picture-book ideal. Equally, it's a tribute to the legacy of my late much-beloved Aunty Ness who taught me the true joy and wonder of the season when all else was falling down around me. It's annually my best opportunity to bless those who attend a variety of Wroxton Christmas events and to share in their love and friendship. And it's the greatest time of the year to proclaim the miraculous birth that is the only true real reason for the season in the first place.
And so, as we settle into all that Christmas 2021 holds, I wish you all the blessings of happiness, safely, health and boundless joy.
Rick xx
(Special love and thanks to my cousin Rachel who worked around the clock for three days to help dress Wroxton in its Christmas finery – her unconditional love and support continues to be an abundant blessing)