Have Yourself a 'Mary' Little Christmas!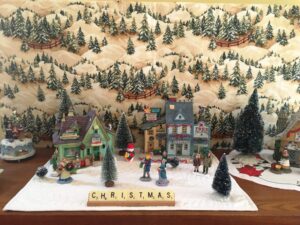 When we previously showcased the NSW north coast home of Mary Beness and her family (click on the House Tours button and read Mary's story in 'Gonna Take A Sentimental Journey') it was readily revealed that one of Mary's principal decorating dictates centres around the 'significance of sentimentality'. The roomscapes, tableaus and vignettes created throughout her home are always crafted with a sense of the sentimental in mind as they rekindle memories and inspire new ones … and as they represent cherished loved ones past and present and the experiences of life, both important and everyday.
So when it comes to Christmas – the most sentimental and emotionally-charged season of all – it is no surprise that Mary approaches decorating her home with 'heart in hand, and love in mind' to create looks that combine so many often disparate elements that are brought together with the talent of a true master as she produces sometimes whimsical, often unique and always poignant and inspired decorating treatments throughout the entire house.
Sometimes Mary's Christmas decorating treatments incorporate wonderful old family treasures which are combined with similar items that might have a common colourway, theme or heritage to achieve a table display here, a corner creation there. Other times she can bring together a number of handmade items – most of which the talented professional artisan crafts herself – with collectables she has found in all manner of outlets – from retail stores to thrift and charity shops – to make a part of a room come to life and endowing it true festive charm … the Mary way.
If all this suggests that Mary Beness makes calculated decisions on what is put with what and how all the elements are precisely placed and scaled, labouring over every decision to ensure that the right combinations of pieces is just as it should be, later tweaking and making minor adjustments until she is satisfied that she has achieve just the exact look … too right! The process of annually transforming her home with festive finery can take between two to three weeks, and ever being the perfectionist, Mary keeps fussing and adjusting until everything is just 'so'.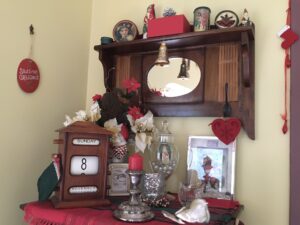 Indeed Mary is a perfectionist as much as she is an individualist, especially when it comes to Christmas decorating. And she rejoices in the 'different and quirky' just as much as she embraces the nostalgic and traditional, and has absolutely no issue with letting it all take pride of place within the same room. Another hallmark of her Christmas decorating is breathing new life into old wares and repurposing them to become integral elements in her original arrangements.
It's all a highly-crafted undertaking as old treasures and newly-found pieces are united to make a look that's nostalgic, another that's whimsical, another that's traditional, but always sentimental. Nothing is ever put out or grouped together by chance.
It all happens by design and never by accident. Often she will refer back to images taken of displays done in previous years and will then work to integrate new elements as she goes, creating new looks in some instances and reviving old ones in others.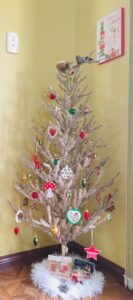 Mary also loves to incorporate lots of natural elements into her displays – dried branches and sticks, pine cones and gum nuts. And if the natural isn't immediately on hand she'll opt for an artificial spray or two that replicates the look. Then there's Mary's love of old Scrabble pieces to make cheery festive words; lots of inspirational signs and vintage doilies plus an array of advent calendars in many guises which all figure significantly as other key elements of a Mary Beness Christmas!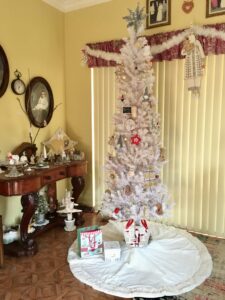 Case is point is Mary's entrance lobby and adjoining dining area where an array of disparate objects come together to make a festive 'whole'. There's a snow tree which is adorned with handcrafted swing tags numbered with the 25 days of December to perform the role of one very large and unique advent calendar. A penguin – a special tribute to Mary's son Nick who has a particular love of the aquatic flightless bird – waddles up nearby as a twig tree on the antique cedar sideboard displays white ornaments in the company of a nativity set, vintage glass and old china, and various other quirky elements.
Nearby a flannel fabric panel makes the perfect backdrop for a Dickensian Christmas scene atop a hall table, a branch hung high on the wall above being adorned with hanging stars. Whimsical elves and a winged Christmas bear are special handcrafted pieces by Mary also displayed within the space. A silver tree with simple primitive ornaments and a white-washed vintage window frame repurposed as a backdrop for a fold-out advent calendar – in the company of small bristle trees – play up a decided Scandinavian Christmas look while nearby, another tableau with little pink trees and vintage Johnson Bros china and 1950s ornaments create a charming retro picture of yesteryear.
Colour play is also an important consideration for Mary as she groups and arranges her displays. Sometimes white is the overriding theme, other times it's nostalgic pinks and teal blues, and in other instances she works with the more traditional palette of reds, green and gold.
In the home's kitchen, favourite collectables are arrayed on the window sill while a white trig tree is adorned with little rusty tin decorations which offer words of affirmation for the season. Nearby, another windowsill – in the hallway – is decorated with a three-storey cardboard Dickensian advent calendar, the doors of which Mary and son Todd progressively open each day leading up to December 25th. Close by on a low teal-coloured stool, a terracotta pot 'grows' a pair of winged snowmen and tree. It's the design of Norwegian designer Tone Finnanger of Tilda patterns and fabric renown as are various other festive dolls Mary has made throughout the home.
The Beness's main tree is always put up in the lounge room, son Todd helping Mary with its decorating and the hanging of handmade fabric ornaments which pay tribute to members of the family past and present and even the dog!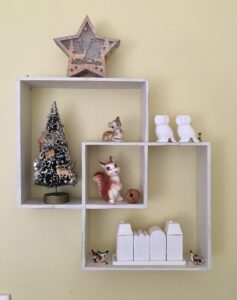 A very special sentimental treasure on a wall shelf within the space is another tree – a small bristle tree which Mary's father gave to her mother on the first Christmas that Mary was born.
Table displays also figure here within the main living space – one centred around a woodland theme with feather tree and fabric forest animals; and another arranged in tribute to Santa Klaus.
In the bedroom Mary adds just a
few festive touches – including four handpainted cushions depicted traditional images of St Nicholas and embellished with braided trim.
A lovely primitive angel hangs on the wall and a few other angelic elements are added atop the tallboy.
Similar simple touches of Christmas cheer are added to the spare room where a handcrafted reindeer-adorned quilt – found at a local church fair – and a roly poly snowman on skates instantly endow the space with festive merriment.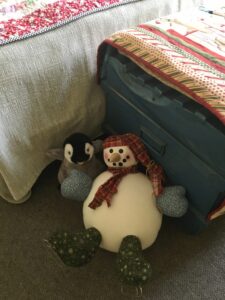 Even outdoors gets the Mary Christmas touch as a pair of vintage skates is hung, filled with pine cones and baubles to make the suggestion of cold climate Christmases far away. An outdoor occasional table is also dressed with a number of quintessential Christmas elements – tree, baubles and snowmen – to declare to all that it's that special time for celebration and cheer once more.
Just as the case when it's not Christmastime, the entire decorating directive of Mary Beness's yuletide displays throughout her NSW north coast home echo what Mary terms as 'eclectic nostalgic vintage farmhouse' style. It's clever and it's crafty; it's calculated and even unexpected; it's quirky and certainly unpredictable; it's unique and whimsical, and in all instances it's as 'Mary' as can be!
For those wanting to know more about Mary Beness's unique craftsmanship and skill at making all manner of baby's ware, nursery items, home décor and Christmas decorations, she has an online store on Etsy. Just search for the name Moo2do and you'll discover all the items she currently has available for sale.