This weekend is the grandparents' big 'moving day'. After more than a decade living in the most gracious old Blue Mountains' heritage homestead, with its quirky floorplan and instant warmth and charm tangible long before one ever stepped foot on the property; it's rambling terraced gardens that ultimately drew hundreds of visitors each year as it was opened to raise money for a local school; its homely, charming 'gathering room' complete with wood log fire that roared away throughout the long cold Mountain winters; its collection of 'architecturally inspired' sheds and outbuildings scattered throughout the acreage (grandfather Billy is a master builder of 60 years standing); its array of amassed and displayed treasures that both Billy and grandmother Avis have acquired over a lifetime of gathering ("I'm not a hoarder, I'm a collector" Avis proudly proclaims); and all the other wonderful and magical attributes that have made this such a drawcard for friends and family to come together over the years … the grandparents are changing address!
With the endless challenges of maintaining a property of the size and age as their beloved Chiltern, the never ending demands of a show garden throughout the seasons, and a desire to live life at a gentler pace, they have made the momentous decision to move on. Finding a home that commands far less upkeep in terms of both size and cost, they were led by practicality and availability of what was on the market to buy a modern home on a smaller block … and are about to make it their own.
But this is not to say that it has all been smooth sailing. Far from it! The process of buying and selling has truly been hellish and a test on the patience and endurance of not only the grandparents, but also their buyers and their vendor. Reason for all the mind-bending, heart-rending grief … a certain group of tyrannical financial institutions known as 'the banks' as they wielded their might and made life so unreasonably difficult for all involved that exchange took place six weeks after the initial expected date. Ultimately, all in their world got to the stage of being too frightened to ask the grandparents how things were progressing so as to avoid further distressing their frayed nerves and hearts with the re-telling of the latest horror in a tale of immeasurable woes.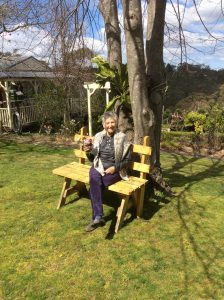 And really … what was all that grief worth I ask the banks? Ultimately all came together, with both purchasers and vendors sorting out their respective financing scenarios and the grandparents – who had been caught in the middle of the fracas – ultimately successfully selling and buying. Anguish and distress almost over, we now simply have to get them on the road and into their new digs. Having spent another morning with them placing furniture on the grid to know where everything is going to go on the big moving day, it does my heart good to see the stress slowly easing and a sense of excitement starting to ebb in as the torrents and storms of uncertainly and horror finally abate!
The other thing that does fill me with delight and 'confirmation of the country ethos of decorating' is that they are going to use all their wonderful treasures and possessions that hold so much love and memories in each and every piece to fill the rooms and make a 'new' place truly their own. There has been no 'let's throw everything out and start again' directives here. The grandmother in particular has been adamant that, despite the modern appointments and architectural features of a new building, she will put her stamp on the place with the retention of wonderful antique and vintage furnishings and accessories that are as precious to her as the people, the places and the tales that are attached to each piece.
Certainly the exercise of modification and the judicious clearing of some old wares has been had, and will continue to occur as they finally settle and make the house their home, but it is truly wonderful for me to witness the way in which they are approaching the process … and unconsciously putting into practice all the things I have written about and have advocated over so many years as a country decorator and author on essential country style and what it means to embrace one's treasured possessions and use them to transform boards and beams into a place of unquestioned heart and soul, sanctuary and love.
There might have been 'words' and ultimately submission by one to the other as they have gone along – the grandmother always having the upper hand and usually winning the battle, of course – but the other thing that has been inspirational, and has always been a key to their long and successful relationship, has been the way in which they respect each other so deeply, constantly consulting and referencing each other, and operating together in the truest sense of love, commitment, compromise and care. If only more of us could be students of their master class in true affection and concern of one human being for another.
These are the essential ingredients, combined with their commitment to honouring and keeping the country and vintage wares around them that embody so many significant and treasured memories, that will truly transform their modern mansion into a heavenly haven where I know all will be drawn to sit and ruminate, to share and celebrate, to be consoled and comforted, to experience and rejoice in being within the midst of these precious souls and their quirky, unique, miss-matched and masterly coordinated, much loved, practical, functional, purely decorative, handcrafted and handed-down things within their unique new world.
Indeed they are 'teachers of the lessons of life' that we all need to learn … as they unsuspectingly inspire, comfort and embrace, console and inspire all around them. They are an endless blessing in my life because of who and what they are, and for this there are no words to express my gratitude … and my love.
Until next time
Rick xxx