'In An Instragram'!

There is nothing anyone can possibly ever say to explain to me the motivation of a person who intentionally causes distress to another, especially when the person on which they inflect their behaviour is completely unknown to them. It is an evil that escalates within the world in which we live and the hearts of many men – people who I simply cannot fathom and whose behaviour I abhor. It's an evil that is on the increase as we transition from a society of 'it's all about me' to one of 'it's all about me and I'll make sure it's about no-one else'!
I mean, where is the good in hacking into someone's social media account and locking them out of it? What can possibly be the motivation except the satisfaction of causing another upset and anguish, frustration and distress? Then there is the macabre joy of leaving them with a sense of being violated.
These were the things I recently endured when my darling youngest sister Angela rang me one afternoon and questioned who the woman was who was hosting my Instagram page? I had no idea what she was talking about until I logged on to find that indeed the owner of my account and username had been changed. Jumping onto my phone app I discovered that indeed, I no longer had access to my own page.
And so began the arduous and vexing task of trying to work out what had happened and how. For the life of me I will never understand the motivation of why it should occur in the first place. Ultimately, after much angst and advice, I was able to take possession of my Instagram identity once more and pray it never happens again.
As difficult as it has been, I now pray for the person or people who perpetrated this misdemeanour for I can only think that they truly do need forgiveness, love and joy within their hearts and souls to replace the darkness and negativity that has so obviously taken up residence there.
Again I come to the realisation that it is the qualities of integrity and righteousness that set us apart and should guide us each day. As they diminish from this world at such an alarming rate they are the very things that give us a peace within ourselves and abundantly bless us throughout our walk here and now, and hereafter.
'Life After (almost) Death'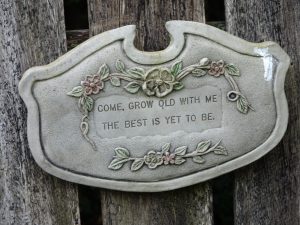 When my dearly-loved doctor (a cherished woman who has taken such wonderful and genuine care of me for over two decades) sat one day and said "you know you went very close to loosing your life" the reality of her words really didn't penetrate until recent days.
Yes, when I fell from the attic on December 30th 2017 and shattered my left leg, I did reason – somewhere inside of me – that it was a dire and serious accident, but I spent so long thereafter heavily drugged and then so focused on rehabilitation that I really couldn't focus on such things. Yes, at the very second I lost my footing and started to tumble out of the attic there was that flash a dazzling white light that is so often mentioned in the face of a near-death experience but I really couldn't dwell on such things back then.
That's up until recently when, all of a sudden, the physical journey has caught up with the mental processes and I have really struggled on some days to rationalise and make sense, accept and keep moving forward. Not only the accident but so many other things of the past have accumulated to come crashing down on me in one avalanche of 'confrontational reality' that, frankly, I could have done without!
Childhood horrors and the patterns of behaviour developed and evolved to cope and even anaesthetise them; fractured relationships; memories of many horrors of adult life and the abuse by others who have been hell-bent on seeing me fail; injustices done … all these issues have seemed to congregated together to haunt me both day and night as I have struggled to overcome them and reach the other side … to a place of resolve, acceptance, peace and total forgiveness.
I'd be dishonest to say that I have reached that place yet, and it really is a battle of two steps forward and one step back. But I share it here as an act of camaraderie. For all those who have likewise been confronted by unexpected and life-changing circumstances, I've learnt there are two ways to look at it all. One is to lament, the other is to embrace.
Yes there is a season of shock, and then rationalising. I feel that – despite the dark days – I am working through this part of the journey now. And then beyond it, there will be the final stage of accepting and looking for the blessings within the midst of it all. This season will surely come and there are already glimpses of it from time to time.
For all those who have travelled a similar path – or are at any point of the same journey – I encourage you to keep heart and know that all will be well. The embracing of such things is entirely in our hands … not to mention our heads and our hearts.
It's Beginning To Look A Lot Like Christmas …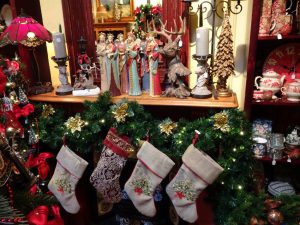 Yes I know it's still only October but get out the calendar and count the days! It's confronting how fast the year has galloped past, and how close the festive season looms on the horizon, all glittering and fabulous.
Christmas has always been at the very heart of Rick Rutherford's Country. When I sat down to write my second Christmas book whilst in recovery from my accident, one thing that was very important for me was to explore the reasons why, deep inside me, Christmas is the most cherished time of the year and why, in adulthood, I hold it so sacrosanct.
The mission of 'making sense of it all' was incredibly cathartic, as was the entire experience of writing the book which, for obvious reasons, is called 'A Christmas Memory … Wroxton Revisited', because the focus of the tale is the revisiting of my mountain property 15 years after I wrote my first Christmas book – 'Rick Rutherford's Country Christmas At Wroxton'. (Both are currently on sale at www.rickrutherford.com – just go to the Christmas Book tab at the top of the site. And there will be a live 2020 YouTube Wroxton House Tour to compliment the books this year – stay tuned for release date in November)
Whilst putting words on the page for the second book, I came to understand that my passion and reverence for Christmas in the here and now encompasses a variety of reasons. It's about reclaiming days of yore and giving back to childhood a joy of the season that was never really there all those years ago. It's about honouring the glimpses of happiness and tradition that were shown by my beloved Aunty Ness who, with steely determination each year, set out to make the season as special and full of love as possible. (In fact, I devoted an entire chapter in the new book to the examination of such things.)
And most important of all, it's about honouring the birth of the child of God. As I grow older I have come to understand that, as each year marches on and we each move towards the time when we will pass from this world, the search for the meaning of existence becomes all the more important for many of us. If there is no God and no holy birth then, to me, nothing on earth makes sense. Why are we here? What's the purpose and point of it all? Surely where people loose their connection with the creator and their faith they otherwise 'degenerate' within themselves and loose their sense of humanity … leading them to do such vile things as hacking other people's social media accounts!!!
Getting Pally With Paypal
Now I'm not going to say it was a doddle, because it wasn't! However, at great expense to my mental health, not to mention my patience in the face of technological challenges (or really, just not being given the required answers to important questions, and having to do it all by international telephone calls and emails that don't answer the questions in the first place!!) I think I have connected the www.rickrutherford.com website to Paypal to make purchasing much easier for all buyers.
The first thing linked are the Christmas Books #1 and #2 which I am offering at very special prices this year in order to clear the remaining stock and potentially fund a number of other ventures, including perhaps that other book 'Inspirations and Sentiments' which I have long toyed with and been encouraged to do by so many.
Within the next week the Merchandise Department of the website will also be stocked with a host of beautiful treasures. There's gorgeous vintage-style tin ornaments; some rare and very collectable Jim Shore Heartwood Creek Christmas figurines and a beautiful H.C. nativity; primitive-style folk animals; some colourful trivets and more.
And you will be able to use your Paypal account for quick and easy ordering and despatch. The new goodies will be loaded within the week so check the website again soon.
"Like A Wreath … Let Christmas Mirth Encircle The Earth"
The early 1900s educator and writer Maud Lindsay certainly had it correct when she wrote about the wreath in the above quote and how it embodies that wonderful sense of joy and festivity that is part and parcel of the Christmas season. In step with the ideals of dear old Maud, RRC will kick into full 'wreath mode' on November 2nd when yours truly will be conducting a 'wreath-making morning' at the Uniting Church Hall in Hazelbrook in the middle of the NSW Blue Mountains.
There will be instruction on making wreaths, plus a host of premade ones available for sale. They'll be in a range of sizes (the smaller ones can also double as the perfect table centrepiece) and the prices will amaze you for original, handmade creations, especially those covered in precious glass baubles. Plus there will be lots of undressed wreaths and 'fixings' to take home and make your own.
The morning kicks off all 10am and there will be no charge – just a simple gold-coin donation to the church for morning tea. The address is Hazelbrook Uniting Church, Rosedale Avenue, Hazelbrook. For more information call Lesley on 0411 577 507 or 0419 977 758.
Annual Wroxton 2019 Christmas Garage Sale
It has become an RRC tradition. In fact, one year when I didn't do it I had locals stopping me in the street, interrogating me as to why I hadn't don it! I'm talked of the mega Wroxton garage sale which is held on the front lawns of Wroxton in Honour Avenue, Lawson, in the heart of the Blue Mountains around the start of November annually.
Last year was sensational as it coincided with the launch of my new Christmas Book (personally autographed copies of which will be on sale again this year). But 2019 it will be even BIGGER as I have sourced a whole store-load (yes, I mean enough to fill a store) of festive treasures … from nativities and tree-topper angels, ornaments, beautiful linen Christmas cushions, 2020 Lang/Legacy calendars, American-imported festive ceramics, some decorative trees, textiles and heaps more.
Plus, for gift giving there are loads of new homewares, jewellery, ceramics, inspirational cards … and lots of other treasures besides. And in step with the traditional format of a garage sale there will also be a range of pre-loved and collectable wares, many with a Christmas theme.
Add to the fact that the prices are all going to be so staggering low (you'll be able to compare the original price and the up-to-75% discounted price on many of the tags) and you'll be able to discover firsthand why so many annually hound me from August onward to know "when is it on"!!!
"Hound me no more" I say! It's happening at Wroxton, cnr Honour Avenue and Cascade Street, Lawson 8am sharp on Saturday November 9th. There will be EFTPOS facilities available and, of course, cash works too!
So, Finally …
Thus, with all that's happening, it leaves me with just one thing to do and that's to wish you all love and peace … and get on with it!
Till next time
Rick