It's beginning to look a lot like Christmas! Well, not quite, but here at Wroxton plans have been in place for decorating themes – some brand new and some familiar, plus all sorts of great gatherings and activities – since back in February. Yes, February!
I'm not exactly sure why there was such a fixation with it all so early in the year. Maybe it has something to do with the fact that this past Christmas I did my 'minimal effort' of just one tree in the loungeroom and a few favourite decorations about the place – certainly not the 'full-force days-of-doing' exertion that I put in the year before when my second book 'A Christmas Memory – Wroxton Revisited' was being prepared.
Those in the know will remember that it was all set to be photographed and the words written when I fell out of the attic, smashed my left leg badly and had to sit in a cast for months looking at all the festive finery throughout the house … finally getting it down in late April. It was so disturbing to have Christmas AND Easter on show at the same time. The house felt like the shop that I had sadly closed due to the accident as the path of life suddenly took a dramatic detour.
Thus the thought of taking it all down (accomplished with the able-bodied assistance of my two dear young worker bees Claudia and Julia) in late April and then putting it all up again six months later was too overwhelming. And so most of it stayed in its boxes – yes, in the attic! – as I went for the pared-down 'this is all I can cope with' look for Christmas 2018.
But that was then and this is now.
My renewed interest and passion returned at the beginning of this year, just after the end of the holiday season and within weeks it had escalated into an almost unexplained obsession with planning and acquiring to create the most magical displays and new themes for coming festive celebrations. It might have had something to do with the fact that I worked at the Sydney Gift Trade Fair in February on behalf of one of the nation's largest Christmas wholesalers and was surrounded by a plethora of fabulous festive wares which will be available for sale through retailers nationally towards the end of this year.
It might have something to do with the fact that subliminally – deep inside me – I DID miss my country homewares business and the way in which I was able to create the magic of the season throughout every room of the heritage gallery. And I got to do it twice annually as well – Yulefest and end of the year.
It might have something to do with the fact that the body has well healed and I'm ready to tackle the world again with renewed energy and passion, especially for yuletide creativity. It also might be connected with the fact that, now working from home so much as a professional researcher and editorial co-ordinator I'm relishing the idea of changing the place around come November.
It might be associated with the fact that, while I wrote my second Christmas book during my time of 'incarceration', I did it as an act of due diligence and a God-ordained reason to keep dragging my poor old plastered leg and body out of the bed each day and plod through the house on a Zimmer frame to my office. Now it's time to truly celebrate all that I wrote about, shared and revealed within the pages of the book without the encumbrance of plaster and pain killers!
It certainly has a great deal to do with the fact that the festive season is a time of celebration, of taking stock, of gratitude and acknowledgment and, boy do I have a lot to be grateful for, especially in terms of all the wonderful souls who have cared about and journeyed with me 'post the great fall'! The opportunity presented by Christmas to welcome them into the heart of Wroxton is one that fills me with much anticipation and joy. And for the very first time this year I am going to welcome in many more than just dear family and friends. I'm going to reach across the globe and welcome in the world as my very first 'Christmas House Tour' will be filmed and go live on YouTube around the middle of November.
Enthusiasm and passion has returned with a vengeance! I've got my mojo back!
Since very early in the year the hunt began for the interesting, the nostalgic, the marvellous and the meaningful with which to adore and decorate the rooms and halls of Wroxton this year … to fill it with festive wonder to delight all who will come along to share and celebrate. Vintage-inspired precious Shiny Brite baubles from America; tartan taffeta ribbon and tree dressings from Scotland; handcrafted woodland animals for a new folk tree from Russia; the most divine glass treetop spires from Romania; tartan table settings from the UK; quirky retro glass and honeycomb pieces from Australian collections … and so much more.
I've been making and, by Christmas, I'll be baking! I'm teaching wreath-making courses come early November, and another first is my professional tree-decorating service which I'm offering this year where I come along to your home and create my magic using all your trims and accessories, just as I did for a dear friend who adorned her home here in the mountains for a wonderful Yulefest celebration this past month (more on the decorating service a little closer to November, although if you're interested now – and live within reasonable distance of the Blue Mountains in New South Wales you are more than welcome to drop me a line now and I'll give you all the details and pencil you in before the diary is full!)
And especially for the website I have assembled a sensational selection of vintage-style tin tree ornaments which will go on sale in the Merchandise Department in October – all in strictly limited quantities so it will pay to get in quickly when they are loaded.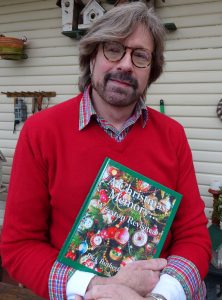 Plus there will be the remaining copies of 'A Christmas Memory – Wroxton Revisited' for sale … filled with so many Christmas reminiscences plus so much information and inspirations regarding the folklore and traditions of the season – from exploring everything from the myth of Santa Klaus and his origins in St Nicholas to explanations on why we use candy cases, stockings, red cardinals, bells, plum pudding, mica-coated glass ornaments, trees, gift giving and more in the process of observing the season. And of course the TRUE meaning of the Holy season, as well as an exploration of the meaning of home and even collecting are given their own chapters in this visual 'festive feast of festal finery'!
And to really make my life as hectic as I possibly can – besides all the gatherings and traditional get-togethers planned for the season (from grandparent's annual morning tea, Progressive Dinner Group Christmas party, al fresco drinks at sunset and much more) – I've even scheduled my annual bonanza Christmas garage sale at Wroxton on the second weekend in November where stock will include the most gorgeous linen Christmas cushions, 2020 annual Lang & Legacy calendars at ridiculous prices, several tabletop specimen trees (as featured in the latest Christmas book), a host of vintage festive decorations and so much more. All will be revealed via the website here and Facebook/Instagram closer to the time. (We have a very big FB presence and would be delighted to welcome you along at Rick Rutherford's Country).
Thus I can certainly attest to the fact that, although it might only be August right now, it's sure beginning to feel a lot like Christmas! I won't venture to add how many days, hours, minutes or sleeps it all is because … I'm not THAT tragic!
Until next time
Rick xxx