Christmas! The very word brings joy to our hearts.
No matter how we may dread the rush,
the long Christmas lists for gifts and cards
to be bought and given –
When Christmas Day comes there is still
the same warm feeling we had as children,
the same warmth that enfolds our hearts and our homes."
(Joan Winmill Brown)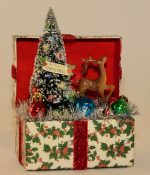 She is beyond an avid Christmas collector. Catherine Warner, formerly of Orange (NSW) is a true Christmas connoisseur … a 'festive aficionado' who anxiously awaits the coming of the season each year so she can embark on the herculean effort it is to transform her delightful contemporary country home into a showcase of winterland wonderment and Christmas delight.
Never content to simply put up a tree and dot a few Christmas figurines about, Catherine entirely 're-decorates' a total of eight rooms of her home, creating very special themes and vignettes as she goes. It is little wonder that people from far and wide make the pilgrimage to see her amazing displays each year, and there's nobody more pleased and proud of what she achieves than husband Graham and the other members of her family.
And as is the case within the Lawson gallery of Rick Rutherford's Country, all the everyday treasures and collectable wares are still here to be discovered too – from Arnott's tin collections and baby's wares to vintage kitchenalia (including a wonderful old cash register, lolly jars, old ice cream scoops, cooking utensils and more), an antique mangle, vintage bathroom and laundry wares and the list goes on and on.
All is artfully put together with the skill of a professional store display artist. And no time is this more evident than at Christmas … the greatest decorating season of all!