Christmas… is not an eternal event at all,
but a piece of one's home that one carries in one's heart.
(Freya Stark 1893 – 1993)
A lifetime of collecting and crafting, designing and decorating is at the very heart of the Jan and Margie Van Krieken's unique country style. The couple live in the beachside suburb of Mullaloo in West Australia, and have resided in the same wonderfully comfortable country abode – a showcase for their beautiful collections of china, glass and treasured antiques – for over 20 years.
The Van Krieken's delightful country residence is a showcase for their skill at 'hunting and collecting' as they have scoured Australian and overseas markets for the special pieces which give their home its unique personality and sense of warm style. And at no time of the year is this more obvious than at Christmas – the couple's favourite season – when their enormous cache of rare, exclusive, vintage, imported and otherwise specially-handcrafted festive treasures are hauled out of storage and used to adorn and decorate every part of their delightful country house.
As Margie tells, she and Jan have been collecting Christmasalia for about as long as she can remember, the mission to find that next gorgeous decoration or heirloom ornament taking the couple from the famed Christmas markets of Germany and Holland – including the North Rhine village of Aachen, Berlin, Valkenburg Caves in Limburg in southernmost Holland – to the various Christmas stores of Australia – the year-round Christmas room Rick Rutherford's Country in Lawson (NSW) being one of Margie's favourite haunts when she is visiting the east coast!
The significance of the Van Krieken's Christmas passions is perhaps best illustrated by the fact that their main tree – a beautiful forest pine – was discovered in a garden centre in Holland and was shipped home specially to 'star' in their living room and to showcase an array of beautiful decorations, including over sixty candle trios which were bought in the tiny Christmas village of Monschau in the Eifel region of Germany. Monschau is one of the couple's favourite places in the world … perhaps because it has such a wonderful charm and heritage, especially come the cold of winter and Christmas.
Santa collections are showcased in groups throughout the Van Krieken's home … there are carved ones, an antique leather chap, and others made of fabric and resin. Similarly, the couple's Snowman collection is proudly displayed, the two star members being a pair of 100 year old snowmen which – handmade from starched fabric and filled with straw – were found at the famous Jaabeurs International Collectors Fair which is staged twice yearly at Utrecht in Holland.
| | |
| --- | --- |
| | |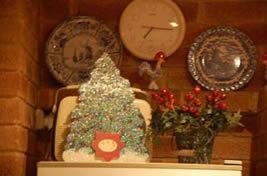 As Margie tells, decorating the house each year follows traditions which have been observed in the family for many years. "It all begins late in November when the wreaths go up and are tied with cinnamon sticks, fruit and our own West Australian pine cones which are collected from the pine plantations near us. The fragrance throughout the house is beautiful. Then it's time to tend to the tree. On go the Christmas carols, out come the glasses of wine and away we go. The process of decorating the tree and putting out the other arrangements takes at least a full day or more.
"At this time, we are always mindful of Jan's homeland and his family residing in cold, snow-covered Holland. Also, for many years, our daughter lived in Europe with her family and was unable to get home for Christmas. And so, in memory and tribute to these things, we turn the air conditioning on high and pretend it's winter here too! As far as other traditional observations are concerned, we celebrate mainly on Christmas Eve with a formal dinner, listen to carols and then walk to Midnight Mass. Christmas Day is spent with family and friends" Margie tells.
Indeed, the Van Krieken's Christmas celebrations embody the best 'country customs' as they embrace the showcasing of treasured collections; the decorating of each part of the home with special themes and arrangements; and the embracing of family and friends as a focal point of celebrations … all done in accordance with time-honoured traditions of their own making, and those of a homeland far across the seas.