We can only be said to be alive
in those moments when our hearts
are conscious of our treasures.
(Thornton Wilder 1897 – 1975)
How long is a piece of string? The answer is as open-ended and potentially contentious as the questions 'when is a house finished?' and 'when is a collection complete?' For Victorian couple Jane MacDonald and Steve Moore, the answer to the two latter questions is in the stars!
The country-loving, home-building, decorating and collecting pair have absolutely no idea when they will ever reach the end … if there is an end. "No time soon" is the general consensus as Jane and Steve continue to dream up new things to do to their charming contemporary-built period-style home; as they find new country decorating treatments to tackle; and are ever on the hunt for more treasures – both old and new – to haul home and add to their impressive ever-growing collections.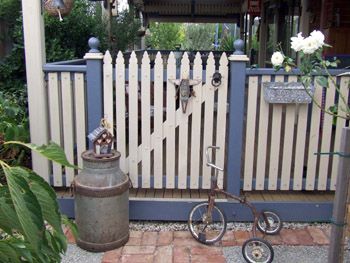 As Jane tells, the couple first started building their dream home in 2000 on a quarter acre block in south-western Victoria, completing the Victorian Federation-style brick residence the following year. The three-bedroom residence features both formal and informal living areas plus a study and is surrounded by beautifully-tended gardens which the pair have painstakingly installed themselves.
In fact, when it comes to customising a home to truly make it one's own, Jane and Steve are masters. A mild-mannered dock worker by day, of a night and weekend Steve turns into a talented country carpenter with such an obsessed passion that, since the main home building has been completed, he has made close to 90 percent of all the timber furnishings inside, as well as a marvellous deck (with recycled balustrading rescued from a local tip) which wraps around the side and rear of the house, and a wide array of other restored and recycled features for the home – both inside and out.
Steve's wood-working skills were learnt from his father – a talented furniture maker whose speciality is the timeless style of America's renowned Shaker carpenters. Left to his own devices, over the years Steve has honed his furniture-making skills to now not only be able to tackle most projects from scratch, but to also specialise in restoring old discarded pieces, bringing them back from the brink and returning them to their original style and function.
"If I had a dollar for the number of times I have changed the blades on the electric planer to cut back and sand old timbers and bring them back to life, I'd be a wealthy man" Steve states. "My favourite haunt is the old salvage yards where I've picked up some incredible finds. Even the balustrading for the wrap-around deck and most of the components which went into the cubby house I built for our three-year-old son William came from the local recycling depot. William loves his own 'home' in the yard, especially as it has hardwood timber flooring and dado panelling inside just like the 'big house' " adds Steve.
While out 'hunting treasures' to haul home, over the years Steve has also found a huge cache of other vintage wares … from cast iron baths to turn into plots to grow vegies, to cart wheels and even the entire contents of an old shed. "The shed was part of the items sold at a deceased estate auction. It was a fantastic haul of woodworkers' screws and bolts, tinware, timber, enamel trays and all sorts of other wonderful bits and pieces. I've already used a lot for a variety of projects about the place, the rest being housed in my 'lair' which is a custom-built Colorbond-roofed shed at the back of the property" tells Steve.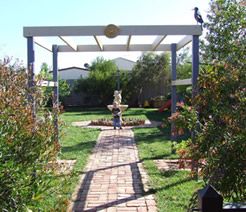 But if one thinks that Steve is the only one out and about, picking up country chattels for the home, think again! A self-confessed 'craftaholic' and 'collector extraordinaire', Jane is a seasoned attendee of every craft store within miles, garage sales, antique and secondhand shops, markets, fetes and any other such outlets or events which present opportunities to find more wonderful wares with which to decorate and adorn the home. She is an expert at eBay auctions, has hosted her fair share of party-plan gatherings for like-minded country decorators and collectors in her local area, and is also regularly on the hunt for hand-crafted items made by regional artisans.
"Over the years I've travelled a fair distance in an effort to find unusual and interesting bits and pieces for the house and garden. And when Steve and I join forces on a weekend 'treasure haul', we can end up bringing home anything from an old pedestal basin – to plant out with annuals in the garden – to a rusty tin chest, vintage watering cans, a clapped-out old lawn mower and anything else that's interesting and will add its own dash of character about the place" Jane states.
The exterior of the home features a striking two-tone brick treatment, with cream bricks to the height of the window sills, and then rustic terracotta bricks above. The timber trim is cream with touches of 'Ironstone Blue' – the colour inspiring the couple to name their house 'Ironstone Cottage'. A Federation-style woven-wire fence at the very front of the property, carved timber corner brackets on the verandah and window awnings that are topped with blue-toned Colorbond, rambling cottage gardens, vegetable plots, and a charming picket gate leading onto the side verandah all signify from the outside that this is a very special country abode.
But it is not until one is inside – across the threshold – that the true decorating skill and country passions of Jane and Steve are fully realised. The entrance to the home features serviceable terracotta tile flooring and 'Savannah' walls by Bristol, with an American border which Jane bought from Mallee Cottage Collections (see Business Directory). Fretwork corner brackets in 'Ironstone Blue' carry the theme in from outdoors. A wide collection of folk art pieces and collectables furnish the space, greeting all who venture to the door with a wholesome country welcome.
The entrance leads into the home's formal lounge and dining area with its blue-grey wool carpeting and cedar venetians. The lounge is furnished with a suite of three-seater, two-seater and matching wingback and ottoman, all the chairs featuring robust rolled arms. Ordinarily reserved for guests and family entertaining, Jane admits that the room has become the favourite haunt of the family's three 'fur kids' … felines Oliver, Molly and Georgia! In the adjoining dining space, a superb table was crafted by Steve from a piece of vintage oregon while the sideboard – made from a combination of baltic, Scots and pitch pine – was assembled from timbers which were originally used more than 100 years ago for the floor and shelving of a local shop.
| | |
| --- | --- |
| | |
From this part of the house, the kitchen and family room is accessed. A cedar buffet crafted by Steve from old western red cedar window frames is decorated with the family's ever-growing collection of vintage scales and aluminium canisters while a huge oregon buffet – which Steve made from a 300-year-old beam from an old Geelong wool store – displays a wide selection of blue and white china, including vintage Willow and ironstone pieces, many of which came from vintage and antique stores in Victoria's Maldon region. A circular table crafted by Steve from vintage cedar timbers and white French provincial-style chairs with cane seating – picked up in a local Op Shop – provide a place for the taking of daily meals.
| | |
| --- | --- |
| | |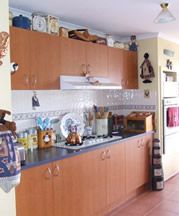 The kitchen of the Jane and Steve's delightful country home features laminated timber cabinetry and benchtops in a blue-grey Formica … another tribute to the 'Ironstone Cottage' theme. The galley formation of the kitchen is achieved by way of an island bench to one side with bulkhead above. It features an integrated sink and doubles as a handy breakfast bar. A crisp white tiled splashback – with floral yellow feature panel – enhances the bright, fresh feel of the space. In the adjoining family room, a half wall divides the area from a rumpus room – furnished with a delightful leadlight cabinet and hand-crafted quilt on the wall above – where William happily plays … in close proximity of Mum and Dad in neighbouring space.
As would be expected, the decorating delights continue into the other 'wet rooms' – the bathroom and laundry – where imported wallpaper borders (again from Mallee Cottage Collections) make a major contribution to the country mood, as do lots of interesting timber wares and collectables. The bedrooms too reflect the theme of fresh, contemporary country style achieved with striking wallpaper border treatments, wooden furnishings (again most made by Steve, of course, including a Victorian myrtle dressing table and tallboy made from 120 year old baltic timbers in the master bedroom) and well-chosen collectable wares.
"If you ask us when we will ever be finished decorating, making things for the home and collecting, the answer definitely is related to that other question … 'how long is a piece of string'?" jokes Jane. Perhaps it's somewhere in the realm of 'completely unknown'!