The world makes up for all its follies
and injustices by being damnably sentimental.
(Thomas Huxley 1825 – 1895)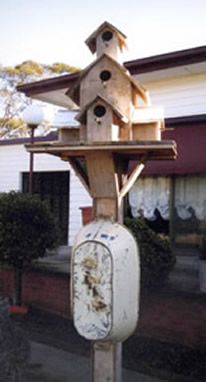 From the country to the town. From the family homestead on 11,000 acres to a Californian bungalow on a domestic block. Such has been the passage, in recent times, of Victorian couple Billy and Kelly Mott. Together with sons Jack and Thomas, the Motts were faced with a life-changing decision just over a year ago … to leave their property in Victoria's northern Mallee region and pursue a new life – and work – closer to the urban sprawl. As Kelly tells, it was not a decision which came easily…
"The drought was really the reason we had to make the move. It was heartbreaking running sheep and cattle with no water for the stock. And the broad acre wheat and barley side of the farm operation was just as impossible. Billy is the fifth generation of his family to work the property, so it was also difficult knowing that we were walking away from the family legacy. However, there is comfort in the fact that Billy's brother has now taken over the reins. The other major consideration we had was the opportunities the boys were missing out on being so far away from town. Having done an apprenticeship in carpentry in Mildura some 15 years earlier before returning to work on the farm, Billy was confident he would be able to find work closer to Melbourne, and so it seemed that the move was the only real option we had" Kelly explains.
Having resolved to make such a major 'sea change', the most important thing the Motts agreed on from the start was finding an old house with the character and quintessential nostalgic charm with which they were familiar. And as Kelly tells, she had so many vintage collectables she had amassed over more than 10 years, she really had to have a house that would suit all her beloved treasures – especially her original enamelware, wonderful array of antique and vintage prams, old scales, gorgeous old teddies and artist bears, meatsafes and a wide array of other old pieces … all of which signify 'home' to both she and Billy.
And so the search began. In an act of divine confirmation that the couple had made the right decision to do the move, a house was soon found. In amazing original condition, the Californian bungalow the couple discovered suited their style and passion for nostalgia to a tee. "The whole house was in very good original condition. All the original leadlight doors and windows were still in place, as was the pedestal basin in the bathroom and cast iron bath. The plaster ceilings, cornices and light fittings remain just as they were when first installed nearly 60 years ago. Since buying the house and moving in, we've painted the entire interior and are gradually adding 'essentials' such as a new hot water system, picket fencing and ultimately, a new kitchen.
The kitchen will be built around a wonderful vintage, fully-reconditioned gas-powered cream and green cast iron Kooka stove (left) which has been converted for modern use. We bought it some time ago and it's presently sitting in the dining room to display my original set of enamel teapots and matching Dutch oven and steamer set" tells Kelly.
Other modifications planned for modern living include the inclusion of two bedrooms in the roof (which is wonderfully spacious and will easily accommodate two bedrooms for the boys) and the addition of a deck off the kitchen at the back of the house. But in the meantime, the three bedroom home – with its spacious lounge and separate dining room, its vintage kitchen and original bathroom, deep shady front verandah so typical of bungalow architecture, its combination of hardwood and cypress pine floorboards and its other quirky period features – offers Kelly and Billy enough decorating opportunities … for now!
Kelly best describes her decorating style as 'nostalgic country' … something that is certainly portrayed throughout the home's entire interior. From the master bedroom with its half-tester bed draped with vintage lace, to the kitchen with its beautiful old meatsafes, original dressers and collections of enamelware and vintage china; from the dining room where more of the Mott's original enamelware is displayed to passageways leading to the various rooms that play host to unique pieces such as an Edwardian cane commode, an ornate antique mangle which originally came from Hahndorf in South Australia (below left), an American Empire ice chest (below middle) and 1930s meatsafe complete with original blue paint finish and draped with calico sugar bags from the 1930s (below right) … the house brims with wonderful old treasures which complement the period style of the abode, at the same time offering up a wonderful slice of the past in the here and now.
"I guess we were blessed to have all the right pieces to go into the house and, vice versa, were very fortunate to find the right home to go with all our old furnishings and collected wares. We did have to get rid of some of the old treasures we owned … a consequence of the fact that we were moving from a large farmhouse to a three-bedroom home in town, but what we now have around us is our very favourite, most special pieces" explains Kelly.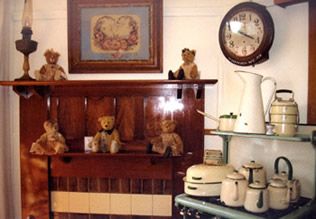 These include that marvellous cast iron Kooka stove with its four burners, roasting oven and separate grill (right). Eight meatsafes are also a significant part of the inventory, including a compact 19th century pine one from the Barossa Valley (left) which features a single cupboard and drawer in the lower section, the unit being used to display just some of the family's original enamel canisters, teapots and jugs. On a late 1800s scrubbed pine dresser (below left), Kelly's favourite collection of vintage and antique Asiatic Pheasant ironstone dinnerware is put on show while on another scrubbed pine meatsafe-based dresser with original mesh insets (below middle & right), a collection of old willow china from a range of different English makers further reveals her enduring love of blue and white ceramics. Also in the dining room – where most of the vintage china is displayed – there's a robust scrubbed pine vintage farmhouse table and original pressback chairs. Here, as in most other parts of the house, the walls are painted a fresh, creamy yellow called 'Mill Flour' by Dulux, the colour being the perfect foil for the warm golden tones of much of the Mott's vintage wooden furnishings.
The bed in the master bedroom is another significant piece Billy and Kelly could never part with. It's an original double half-tester that has been professionally modified to now be queen size. Over the tester, Kelly displays a collection of vintage lace panels and old lingerie, including pairs of pantaloons which were once worn by the ladies of the late 19th century. The bed is dressed with a Marcella quilt, matching pillow shams and a 1920s pieced quilt top which Kelly bought from America. At the end of the bed an old enamel ewer and basin – with matching bedpan which once belonged to Billy's grandparents – sits on its original cast iron stand.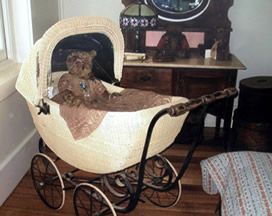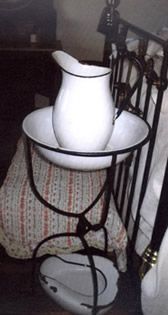 In the bedroom, as in various other parts of the house, Kelly's passion for bears – both vintage and artisan-designed – as well as her love of old scales is well evidenced. A beautiful teddy called 'Edwina' which was made by Victorian bear artist Sue Alvey of 'Charlotte Rose Bears' is dressed in a gown of vintage lace (left & below left) and sits inside a wonderful Victorian perambulator, resplendent in original condition. In the corner of the room, atop a meatsafe – which came from Billy's grandparents – is a set of vintage Hanson nursery scales (made in Chicago, USA) which is the venue for the display of a pair of bears (below middle), one being a much-loved souvenir from the 1920s. Kelly has several other sets of the coveted nursery scales as well as wonderful artisan bears, including a collection of Gilson Bears (by artisan Carol Gilson) which are unique handcrafted teddies of 'military breeding' … gorgeous chaps embellished with old war memorabilia and other such vintage items to play up their respective army and navy affiliations (below right).
In all, the house, its furnishings and unique collectable contents all combine to create a wonderful slice of yesteryear character which is still very much a part of the here and now. "It's like living in the past, in the present. We have tried to always procure original pieces – never reproductions – so that authenticity is retained. And the other thing we've paid attention to is the aspect of handmade as we've added a collection of handcrafted items – especially cloth dolls and bears – in the best traditions of the country ways of old" states Kelly.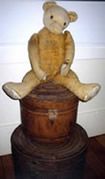 "Coming home each day not only offers the promise of personal refuge and sanctuary, but also means that when we cross the threshold we can step back in time as well … to where things were less complicated and more honest and sentimental. I guess 'sentimentality' really is one of the key guiding forces in the way that I love to decorate as it means so much to both Billy and I to be surrounded by things that have come from the family and thus have special meaning and a heart connection. Especially considering the fact that life has brought us from the farm and the people we love, to the town, they are all never far away due to the wonderful treasures which we have around us, each item representing a special memory and connection with a time, a place or a significant person" she adds. Call her sentimental indeed … there's really no better way to make a house a home!