There's a charm that is embodied
In everything that's true…
That's simple and wholesome
That's positively primitive, through and through
(Elsie Whitely 1825 – 1899)
One look at the interior of any room tells the tale. While some love a cottagey English country look and others are into a more rustic and rugged interpretation, some dote on a retro country style and still others like things elegant and classically appointed. According to Deb and Robert Garrard of southeastern Victoria, all this is very well and good for others, but for this couple there is only one way to go … and that's positively primitive!
In a tale of 'she does, he does', the Garrards are one of those inspiring couples where Deb comes up with lots of ideas and inspiration, and Robert interprets them with saw and drill, hammer, paint and other such tools essential to the home handyman. Deb too is forever creating, although the disciplines she tackles are more 'genteel' and require such things as a sewing machine and Parisian essence, needle and thread. Another great 'ally' in the pair's passions for all things primitive is the computer as they trawl the online markets of the world in pursuit of that next perfect piece for their home.
As Deb tells, she has been passionate about the primitive country look – which has its roots in the heartland of America's New England region and parts of the Midwest – since the early 1990s and has devoted much time to not only acquiring and creating decorative items to help achieve the look here in Australia, but to also understanding the background and heritage of the style. Robert has also been bitten by the bug in terms of his delight in making pieces of country furniture that suit the look, so many of which are never to be found here on the domestic market. His skill at such things often staggers Deb who tells "he can look at an image in an American magazine and instantly work out a way whereby he can make it. The cogs start turning and I know in an instant he has formulated in his mind the exact process of execution. And of course, by doing so, he has produced for our home everything from a Shaker-inspired grandfather clock to several dry sinks, racks to display my ever-increasing dough bowl collection, Shaker tables, peg rails and wooden lamps."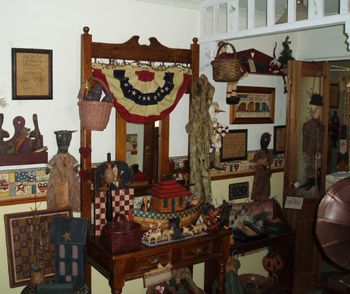 The home in which Deb and Robert live was designed and built by them 11 years ago. Three bedrooms with open-plan main living areas which spill over into a country cookroom; the home is as much a testament to the pair's ability as designers as it is to their talent as decorators. And, of course, it's a showcase for all their wonderful primitive wares.
The process of fine-tuning their previously broad, general interests in country décor to the very specific world of primitives, combined with a love of rustic and nostalgic country wares, has taken a number of years and has been influenced by various factors. As Deb tells, when she discovered her first Country Sampler magazine from America, she was hooked. "And then there was the original stable of Australian Country Collections magazines written by Rick which brought to the nation the first real insights we had seen into how the look could be interpreted here. My first step into this world began with the making of cloth dolls using American patterns and gradually I began devising my own patterns. I loved to make them really grungy, despite the fact that some people thought that they were just that bit too ugly" she tells
Then Robert was enlisted to take up the carpentry tools and tackle the task of making the first pieces of primitive American furniture, thereby replicating the look of the U.S.'s earliest colonial settlers. As the years have progressed, to the equation Deb has added Amish bonnets and a range of original vintage clothing pieces. Her greatest passion is now collecting American antique and vintage dough bowls (which, thanks to Roberts, have their own display racks), braided rugs and firkins (original wooden buckets) … her best aid in acquiring such distant and often hard-to-find pieces being eBay. Then there's also a wide collection of wonderful handcrafted ornies – many from crafters in America and others handmade here – which are displayed on a tree permanently on show in the Garrard's lounge room. As Deb tells, each one holds a special memory of the maker and, to her, represents a little piece of their heart. They're interspersed with a growing array of small redware and tiny yellow ware bowls which, like so many of her other decorative primitive treasures, Deb has sourced in the States.
The Garrards are also avid garage sale and secondhand store shoppers, and have the great knack of being able to pick up a bargain and transform it into something special by way of a little paint and imagination. All their collected, handcrafted, restored and revived wares come together to create a home that is as unique as it is immediately personal.
Walls throughout the interior of the home are painted a rich cream, or are otherwise a buttery yellow, with timber wainscot and wallpaper borders imported direct from America above. On the floor there's terracotta tiles through the main living areas – softened with traditional American-style braided rugs – and pale cream wool carpet in the bedrooms. Baltic pine cabinetry has been used in the kitchen – which features a separate scullery with open shelves to display an abundance of stores and cookroom wares. Star attraction within the kitchen is Robert's pride and joy – a five-burner Savoir Faire European gas oven.
At the back of the house, just off the laundry, the Garrards have closed in a verandah area to create a wonderful country breezeway which is the ideal space to take breakfast and sit reading the paper. And, of course, it has also provided yet another prime venue for the display of more of their wonderful primitive, handmade and other country treasures, including meat safes, Americana, and large metal barn stars which hang on the wall.
Acquired, collected or handcrafted, wonderful accessories gleaned from a variety of places all over the world – and from here in Australia – are indeed the essential decorative elements within the Garrard's home and each make their own significant contribution to help create a marvellous primitive country theme throughout the interior. There's a range of vintage coverlets and handmade cushions which are arrayed within the lounge and bedrooms; there's a collection of wooden chequerboards which have been either brought from overseas, sourced locally or handmade.
There are wonderful grungy country dolls – many of which have been handcrafted by Deb – and fabric crows, vintage enamelware and shelves trimmed with pip berry garlands. There are bears and dough bowls, Santa figurines and feather trees in most rooms (these being left out all year round). There are old electric jugs, baskets and birdhouses.
And of course there are all the clever handcrafted carpentry touches that Robert has added too … from the aforementioned handmade furnishings to fretwork above doorways, a marvellous set of scalloped time shutters on the window above the bath, Shaker peg rails to display Deb's ever-growing collection of original Amish bonnets and aprons, tiny spice cabinets and the list goes on and on.
As Deb tells "We have both become so passionate about the primitive style of country decorating, and our fascination with colonial America never seems to wane. If anything, it grows stronger with each new piece of rustic furniture Robert crafts and each new primitive ornie, vintage dough bowl, firkin, braided rug or Amish treasure I find and collect. I have had so much joy dealing with so many people throughout the United States during the time I have been building the various collections, and they have always been wonderfully generous and friendly. I can just imagine what their own homes must be like and how visitors are surely made to feel so warmly welcomed.
| | |
| --- | --- |
| | |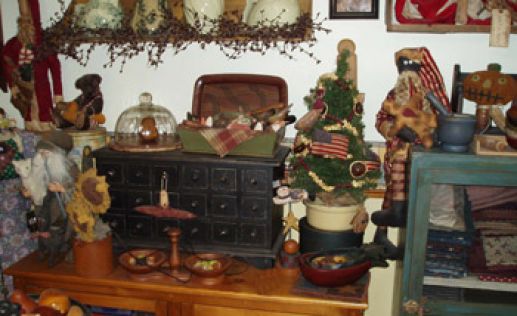 "To me this is an essential part of living and decorating the country way … having a generosity of spirit and a love of sharing both heart and home with others. Australians are still, in many ways, a little too wary and 'closed off' from others around them, but I believe that if we all adopted the 'country approach' and relished more in our collective heritage and each one's own personal history – placing more emphasis on wonderful vintage treasures and the unique quality of handcrafted things at the same time – and are willing to openly share these with others, I really think we would all be so much more content. It's the simple and wholesome things in life that really matter, and for us these are certainly embodied in everything that's 'positively primitive' " Deb adds.