Gonna take a sentimental journey
Gonna set my heart at ease
Gonna make a sentimental journey
To renew old memories
(Buddy Green 1897 – 1981)
Some decorators take as their starting point a penchant for a particular design style, whether it be French Provincial or Victorian, cottagey or coastal, urban chic or folk. Some let the bones of the home do the 'telling' and work within the dictates of the architectural framework of the house, decorating in homage to clean lines and hard surfaces of a modern structure or the vintage theme of a retro 50s bungalow. Some decorators mix it all up and celebrate a look that is eclectic to the extreme while others remain complete purists and refuse to deviate from the dictates of some sort of design template they have found in a book or magazine.
Then there are the home owners who are more the 'Mary Beness type' of home designer … who use one very clear directive in the quest to adorn and decorate one's home. And the directive? The first rule of decorating, according to the Mary Beness school of thought, is that sentimentality must reign supreme. Disparate objects are paired together; quirky tableaus are created; precious and common items are grouped together on tabletops and windowsills – and displayed in a multitude of unique and original ways – all in the aim of creating looks that are the most emotionally-charged and sentimental. They may represent happy memories, special loved ones past and present, good times and places close by and far away. But they're always expressive and poignant and reveal so much about the decorator herself and all that she holds dear.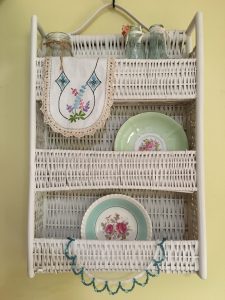 In company with her husband Peter and adult son Todd (younger son Nick has now moved on but is a very regular visitor), Mary lives in a 1980s-style four bedroom brick home on the NSW north coast … a place that she has called home for the past 26 years. To reveal that, as a child, Mary grew up on a dairy farm in the region is to give explanation to just some of the influences acting on her decorating tastes and style which Mary best describes as 'eclectic nostalgic vintage farmhouse'! And overriding all this is the requirement the everything she collects and displays within the home should have some sense of sentimental connection … be it the period from which it originally came, its 'memory trigger' quality, its colour or even shape.
By her own confession, Mary Beness has been collecting all manner of wares – kitchenalia and vintage china, nostalgic manchester and Australiana pottery, folk and primitive country pieces, wall vases, books and ephemera plus lots of juvenalia (from kids hats and clothing to bears and anything else that reminds her of her own halcyon days of childhood and youth) – since she was first married. In the past 15 years, collecting skills and tastes have been honed to focus more on domestic life of the 1950s and 1960s, her greatest delight being to take something that was originally designed or intended for one purpose and 'upcycling and repurposing' it for a new use in the here and now.
As with most of the public areas of the interior, the entrance of the house is painted a creamy yellow – ironically called 'Hemp' – with a plum-toned 'Deluxe' used for all the trims. Here Mary's collecting passions and talent for quirky display is seen right from the get-go. On close inspection there really are lots of treasures and wares arrayed here – as they are throughout most of the rest of the interior – but they never look overpowering or clutter up the space as they have been thoughtfully and artfully grouped, always with a story or some connecting value to bring them together and validate their combination.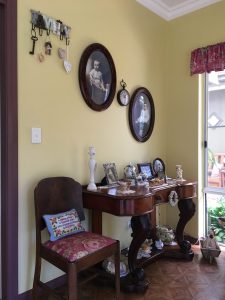 A mahogany spice chest in another part of the entrance is filled with fabric – just one of many places throughout the house where Mary hides her stash which she uses for all manner of quilting projects and the making of children's clothing – as are the drawers of a 1920s wooden chest, a collection of stationary wares also being kept here for the sentimental letters and notes that Mary still loves to write. The clever grouping of vintage manchester and china, folksy pieces, old tins and glass demonstrate Mary's talent bringing different items together to create unique vignettes and offer the promise of more to come as one travels through the entrance further into the interior. In one part of the entrance a cedar sideboard – which once belonged to Mary's mother – displays old family photographs which 'tie' the display together with the wonderful restored vintage images of her parents as children hanging on the wall above. As Mary explains "the sideboard original performed duty as a dressing table. By the time of my growing up on my family's dairy farm, it had been painted Mission Brown and it was here that I used to do my homework every afternoon after school. It is certainly now one of my most cherished sentimental possessions as it embodies so many wonderful memories of the past. Today the farm is still in the family, my brother who runs it being a fourth-generation dairy farmer."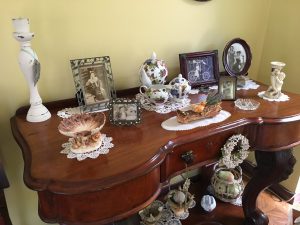 As is the case in the majority of country-inspired homes, the most public rooms within the house are the most popular to showcase collected treasures and memorabilia and this is certainly the case within the Beness's residence. And the amassed riches also betray another quality of Mary's collecting and decorating passions … and that's, by her own confession, she couldn't get more eclectic if she tried! "With all the vignettes and 'visual essays' I create, I group things according to era, colour, family connection and many sentimental triggers. And just sometimes there's no rhyme or reason why I put things together outside of the fact that I think they look good!" Mary declares.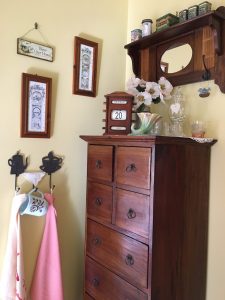 Sentimentality rules that things immediately associated with her 'men' – husband Peter and sons Nick and Todd – should figure prominently in this part of the house too. And so vintage heirlooms and treasures which came from Peter's parents, combined with Nick's favourite collectable – penguins – and Todd's much-favoured sunflowers all have their evidence here. An old window frame from her parent's farm; an Arts & Crafts planter stand; framed image of Paris's Montmartre district which was originally given to Peter's parents as a wedding present; slices of log painted to depict the farm scenes of childhood … these are all artfully combined with vintage Australian Diana and Remued pottery pieces, vintage china plates (showcased on a wooden dishrack atop a repurposed wooden table with drawer), old tins and glassware."I also have no reservation about showcasing things that originally were used in one space in a completely different venue in the present.
Thus there are vintage pieces of kitchenalia in the lounge and dining room displays; pieces that would once have been used in the bedroom or used to decorate the shelves of an office or study are brought together in the loungeroom in harmony with all sorts of nostalgic and vintage pieces more readily associated with the parlour and dining area" tells Mary.
Mixed in amongst the displays there might be a rabbit initially bought for Easter or a table-top wooden tree initially selected to decorate at Christmastime. This demonstrates Mary's true 'liberty from boundaries and rules' when it comes to showcasing the things she loves, doing so whatever time of the year she darn well feels like it!
Other collecting passions betrayed in this part of the house include Mary's particular penchant for vintage tennis sets and old transferware china, as well as all things to do with the taking of tea –
from lovely old teapots to trios, creamers, sugar caddies and the like. Inside a bow-fronted vintage leadlight cabinet at one end of the dining, evidence of Mary's love of Depression green glass is seen, in companion with beautiful Victorian vases which once belonged to her mother, cranberry glass and a pale green Noritake dinnerset.
Here and there within this part of the house Mary has turned things 'on their head' as she is want to do when she gets decorating. Serving trays are stood on end to frame various objects brought together to create unique tableaux; wooden boxes are stacked atop one another to create an impromptu 'what not' for the showcasing of more special and whimsical wares;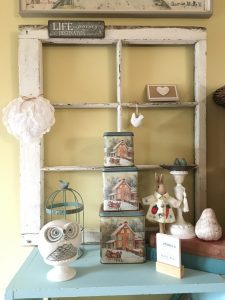 a fanciful homemade cabinet found in Glen Inness that looks like a 1950s television shows off more vintage china and a fabric tree adorned with one of Mary's favourite collecting motifs … owls.
While the dining room table has been painted a Chinese pink-red and the saddleback chairs a muted mauve, the purpose-build wall cabinet in the adjoining lounge area was custom-made in Tasmanian bloodwood and has been waxed and polished to allow the colour and grain of the timber to shine through.
Quirky touches in the space include a reading nook by the window where a timber step stool (made by son Nick who also crafted the coffee table in the room) has been repurposed to perform the role of display stand for collectables and a timber pot rack has been hung overhead – and trimmed with fabric elements – to display various hanging folk art pieces. As one travels from dining area into the lounge, Mary's passion for vintage wall vases is well witnessed, as the wall either side and above the wide archway is covered in many of her favourite pieces.
| | |
| --- | --- |
| | |
As would be expected, vintage kitchenalia is one of the key decorating accessories in the cookroom, gloss white cabinetry and crisp white tiles on the splashback helping to create modern clean lines and serving to provide the perfect counterbalance for black cabinetry trim, black granite used for the 'tea and coffee nook', and deep aubergine used for the rest of the countertops.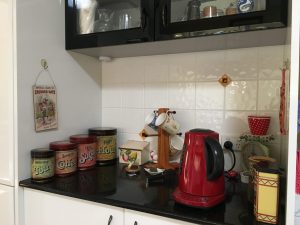 A wide window behind the sink offers views to a covered pergola outside, the same aspect being seen through wide windows that run along the hallway that leads from the front of the house to bedroom accommodation. The wide sills are the perfect venue for showcasing yet more of Mary's sentimental collections, one display having a decided coastal theme while another is very definitely 'primitive folksy'.
Through a nearby door opening off the hallway, an upcycled old cabinet showcases some of Mary's favourite textile pieces – including quilts she has made,
a chenille bear which Mary crafted and dressed in a coat made from the jumper her father once wore for his daily milking chores, and a cat and three kittens which Mary once made to represent her mother and the family's three children (Mary and her siblings).
| | |
| --- | --- |
| | |
Just off the main bedroom – with its aqua teal floral accents, custom-made queen bed and cedar blanket box with upholstered lid – the latest update in the house has been the creation of a brand new ensuite. "I wanted the room to be sleek and modern and yet still have that touch of nostalgic style.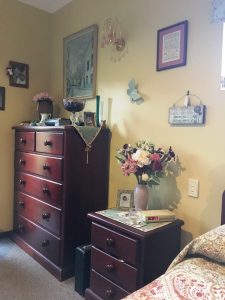 The touches of teal in the feature tiles used for the cabinet splashback and running as a panel down the wall of the wide shower marry the space with the colours used in the adjoining bedroom. The flooring is a grungy grey-taupe ceramic tile while the cabinetry has been done in a smoky wood veneer to give the space an earthy feel" Mary explains.
While there are three other bedrooms in the house, one of which is son Todd's private domain and 'off limits' for the purposes of Mary's unique decorating, the two others showcase her creativity and craftiness … one definitely more so than the other as it the site of all her children's clothes making activities, sewing, card making and the full gamut of craft pursuits in which she indulges. As she tells "when our son Nick moved out, his bedroom became what is now my much-cherished craft and sewing room".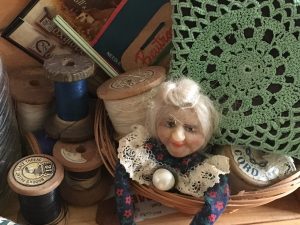 She knits, she crochets, she embroiders and she partakes in so many other crafts that it's no wonder that there is very little space left within the room.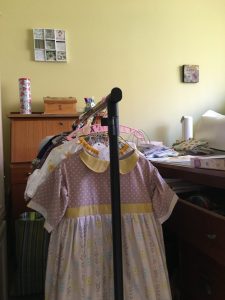 Mary's particular passion though is making clothing for young ones that have a decided vintage look and styling, many of which she even makes with original vintage fabrics. She retails these wonderful one-off creations exclusively through her etsy store moo2doo.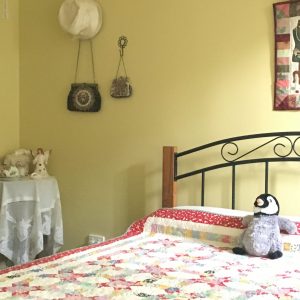 And for those wondering if poor old son Nick has been let completely 'in the dog's house' when he returns home to visit, all is well as the fourth bedroom of the home has been set up as a special guest room, complete with a range of original textile delights created by Mary to make the space feel truly unique and inviting.
On the bed, the quilt was created from a top made of 1930s reproduction fabrics which one of Mary's old customers gave her and she then finished it with backing and binding; on the wall a quilted hanging depicts Mary's passions as a seamstress, as do the handcrafted dolls, flying angel and bears in the room which have all been made by the talented crafter.
Indeed, throughout the entire interior of the home, and even into the garden with its whimsical vignettes created with plants in old pots and pans and other unusual containers that have been repurposed for the cause in the tradition taught to her by her mother, Mary has used her skill at bringing disparate objects together in truly unique and interesting ways. The entire home – inside and out – resonates with a mood that is not only nostalgic and a little bit retro, but also charmingly chic and wonderfully sentimental at every turn … a true bastion of creativity and comfort for a very talented country decorator and her family.
| | |
| --- | --- |
| | |
If you would like to discover more about Mary's superb nostalgia-inspired children's clothing (which includes baby jackets and smocks, baby swaddlers, romper suits and so many more unique and original items) visit her etsy store moo2doo.
https://www.etsy.com/au/shop/moo2doo?ref=search_shop_redirect
And for more 'sentimental inspirations' make sure to check out her vintage Christmas decorating showcase which we will be featuring on the site here towards the end of the year … it will be a Christmas decorating adventure so sentimental for the season!