It is the home
that lonely children dream …
a meeting place for kindred minds and hearts
a holiday for souls.
(Nan Witcomb)
Over the course of one's lifetime, there are various occasions which cause one to stop and take stock … to refocus, think afresh and to determine what is – and what isn't – really important. It's all a part of the process of personal evolution and growth, and often leads to major reassessment and a renewed determining of one's priorities, one's interests and even one's point of view. Within the context of the decorating world, this can mean completely changing one's interior look and style … from simply paring down to tossing everything out and heading in a completely new direction.
The course of life – and the decorating persuasions – of Canadian-born Pam Taylor is certainly a case in point. An Australian resident for almost two decades, when Pam first moved to the land down under, her interior style focused on a recapturing of her homeland. By her own admission, it was all about warm woods, deep colours and all the other trappings which represented a cold climate. This was the style which she embraced when she first settled here with husband Rob. This was the style which has carried Pam forward but has, over nearly ten moves in twenty years, been modified as a consequence of so many unexpected changes and events in life, the most recent and dramatic being the death of her beloved mother back in Canada.
As Pam tells "Over nearly two decades, my style and interests have certainly changed and evolved. In the early days my decorating look was certainly all cosy and cluttered, but in more recent times it has transformed, becoming far more contemporary and streamlined, at the same time embracing lots of memories of loved ones and significant events of the past. When I think about it, I realised that it has taken many years to find my own unique style, not to mention finally having the confidence to embrace it."
This 'ultimate metamorphosis' of her country decorating look and – by extension – her style of living, most recently 'culminated' when Pam and Rob made the decision to move from their former home and purchase a new, contemporary residence close to the NSW Hunter Valley. For Pam, the architectural character of the new residence dictated a final rethinking of how one goes about making a house into a home and the process of selecting the essential decorating trappings to create a secure, familiar and welcoming environment which is in step with the style of the building, at the same time reflecting one's own unique interests, aspirations and heritage.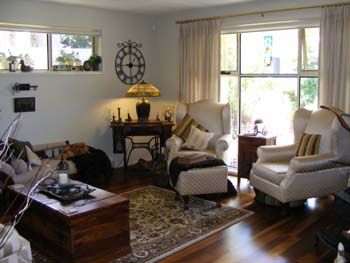 "When we saw the house for the first time, we were taken with the wonderful, open-plan feel to the spacious interior. And yet it still retains special interest areas and separate rooms which serve to make it both intimate yet free-flowing at the same time. I guess you could say that the house represents my ultimate assimilation into the Australian look and way of life. I really wanted to start with a clean slate and work with the open, fresh feel of the interior – maintaining the light and bright mood of most of its spaces – by keeping everything fairly neutral. Abundant creams, mixed with many hues of brown and lots of touches of green thus formed my core decorating agenda, ultimately creating a contemporary rustic country interpretation, with touches of French inspiration which, in turn, reflect my Canadian origins, especially given that Canada was equally colonised by the French and the English" Pam explains.
| | |
| --- | --- |
| | |
The purchase and subsequent decorating of the Taylor's new Hunter Valley country residence led Pam to not only reassess and determine her own unique interior style and – by extension – her priorities for the future, it also led her to make a range of hard decisions regarding what to maintain – and what to discard – in the process of furnishing and equipping the place. As she explains:
"Having moved every two years over the past two decades, I wasn't sure if I was running towards or away from something. Now that my daughter Amy has grown up and married and my daughter Brooke is well on the way to maturity, life has marked a certain coming of age. And with the death of my beloved mother, it has been a season of taking stock … working out what is important and what I want for the future. This new home is so wonderfully 'Australian' – low maintenance and geared to entertaining – and yet has allowed me to integrate special trappings and vignettes which speak of my Canadian origins and what is important to me from days gone by."
| | |
| --- | --- |
| | |
Another important influence on Pam during this process of 'revelation and consolidation' has been the words of a very special piece of prose which she read many years ago and, in this time and stage of her life, is now finally understood and fully appreciated. It encompasses and explains Pam's belief that her new home is truly a retreat for the soul. Written by contemporary Australian poet and raconteur Nan Witcomb – author of the renowned 'The Thoughts of Nanushka' collection – it reads:
There is a place
where gold and ruby leaves,
still lingering on Autumn vines,
make patchwork patterns
on earthy brown and pale green velvet hills
to decorate the edges of the sky.
Where honeyeaters dine
on scarlet berries
clinging to the hawthorn hedge,
and crisp, clean air is gently scented
with rosemary, eucalypt and pine.
There is a homestead
where the warmth and welcome
is so much more than log fires
glowing on polished wood,
or wine and music,
flowers and feather beds,
or a book lying open
in the lamplight's pool of gold.
It is the home
that lonely children dream ..
a meeting place for kindred minds and hearts
a holiday for souls …
| | |
| --- | --- |
| | |
The Taylor's contemporary country home encompasses four bedrooms and two bathrooms, plus a main open-plan living area which is an extension of a wonderful kitchen designed for optimum entertaining. This, in turn, spills out into a marvellous al fresco eating area off the kitchen where meals are taken throughout the warmer months of the year. The main 'gathering space' of the house features raked ceilings with integrated downlights, the mood being further accentuated by a vast array of lamps, leading Pam's daughter Amy to lovingly dub the home the 'house of lamps'. "In addition to all the intimate pools of electric light, I burn dozens of candles which help to create the most romantic, tranquil atmosphere … one that immediately puts all at ease. Add the sound of trickling fountains by day and birdsong – which is contributed by my two gorgeous cockatiels Pretty Boy and Squeaky – and you can instantly understand why it is so easy to feel completely at peace in this very unique space" Pam explains.
| | |
| --- | --- |
| | |
The house also boasts a special dining area and formal lounge room which is furnished with a distinctive double wingback settee and matching single wingback armchair, both having been recovered in a striking cream fabric to match the soft, neutral tones of the home. For more informal gathering, there is a separate television-viewing space which is furnished with olive green wingbacks that Pam bought from Canada and had recovered to match the new scheme. This is typical of so many of the furnishing pieces to be found throughout the entire interior … they have a sentimental connection and yet have been revived to match in with the cosy contemporary style of the Taylor's new abode.
| | |
| --- | --- |
| | |
"So many of the pieces we own have a story to tell. Many came from trash and treasure markets or embody wonderful memories and thus have significance and meaning. And this is the way that I have approached the overall concept of decorating as well" states Pam. "My mission has been to create fresh, interesting looks within the overall scheme of neutrals and fresh earthy tones. Working against a backdrop of tinged white walls – 'Green Tea' by Dulux – married with hardwood flooring throughout the main public areas of the home and olive green carpeting in the bedrooms – I have selected furnishings and accessories which have enabled me to create vignettes that represent less of a following of fashion and more of a personal journey" Pam explains.
| | |
| --- | --- |
| | |
Such is seen in the way in which old timber furnishings have been given a new lease on life with fresh coats of paints in creams and shades of beige. New door knobs and handles have further contributed to the 'new from old' feel and again embody Pam's decorating outlook that the mission to adorn one's home should be less about slavishly following fashion and more about making the most of one's much-loved possessions, breathing new life into them with fresh paint finishes and up-to-date accessories to make them 'light and bright' rather than dark and heavy.
And mixed in with the array of 'rejuvenated' pieces throughout the interior of the Taylor's country home there is a wide selection of individual items and old wares that have been left in their original condition – to demonstrate their integrity and to serve as a direct reminder of distant times, past loved ones and the many stages of the journey of life. Such things are embodied by a sewing machine table in the kitchen which originally belonged to Rob's mother and was used to make the clothing of her twelve young children. There is a rocking horse in the guest bedroom – which is regularly used by the Taylor's grandchildren Ruby and Jacy – which was specially commissioned by Rob. There's a vintage wooden writing desk in a corner over which hangs a collection of images of the family's dearly-departed pets Beamer, Blue and Shadow who had been a significant part of their lives for nearly two generations. There's collections of duck figurines and geese in various parts of the public rooms which signify Pam's Canadian origins and tell of her country persuasions and passions.
As Pam tells "In so many ways, this house is the perfect assimilation of Canadian and Australian influences as it represents an integration into new surroundings and environment and thus signifies new beginnings. At the same time its wonderfully familiar, sentimental aspects serve to remind me of where I have come and how far I have travelled, making it a true retreat for the heart … or as Nan Witcomb would call 'a meeting place for kindred minds and hearts – a holiday for souls'."